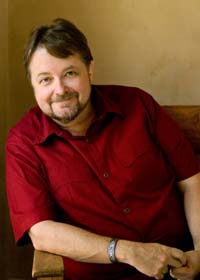 An Evening with the Author
LUIS ALBERTO URREA
TUESDAY, SEPTEMBER 27, 2011
Born on a dirt street in Tijuana, Mexico, Luis Alberto Urrea was the first in his family to graduate from college. He is now a college professor. But he is most known for being a prolific writer of books, short stories, essays, and poetry – both fiction and non-fiction. His mission is to use dual-culture life experience to explore greater themes of love, loss, and triumph.

Urrea's first book, Across the Wire: Life and Hard Times on the Mexican Border (1993), earned recognition as a New York Times notable book of 1993, and his 12 subsequent books – as well as his poetry, essays, and short stories – have continued to garner similar praise. His 1999 memoir, Nobody's Son: Notes from an American Life (1998), won an American Book Award; Six Kinds of Sky: A collection of Short Fiction (2002) was named the 2002 small-press fiction Book of the Year by ForeWord magazine; his work appeared in the 1996 Best American Poetry collection; in 2009, he won the Edgar Award for best short story from the Mystery Writers of America. The Devil's Highway (2004), which tells the true story of Mexican immigrants lost in the Arizona desert won the 2004 Lannan Literary Award and was a finalist for the Pulitzer Prize.

Urrea's most recent book is Into the Beautiful North: A Novel (2009). It's the story of a group of young women from a small Mexican town who decide to find the town's young men, who have all immigrated to the U.S. The bestselling book uses strong narrative, poetic images, and charming humor to explore both the appeal of adventure and the enduring meaning of home.

A graduate of U.C. San Diego and the University of Colorado–Boulder, Urrea has taught at Harvard University, Massachusetts Bay Community College, the University of Colorado, and the University of Louisiana–Lafayette. He is now a professor of creative writing at the University of Illinois–Chicago.

Luis Alberto Urrea's visit to Claremont is jointly sponsored by the Chicano/Latino Student Affairs Center, The Friends of Claremont Library, and the Athenaeum.