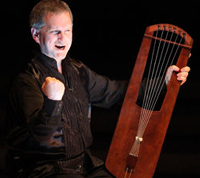 Beowulf: The Epic in Performance
BENJAMIN BAGBY
THURSDAY, SEPTEMBER 29, 2011
Vocalist, harpist, and scholar Benjamin Bagby will be joining us at the Athenaeum for his lauded presentation of Beowulf: The Epic in Performance. Mr. Bagby accompanies his performance with a six-stringed harp, based on the excavated remains of similar seventh-century instruments. The retelling of Beowulf requires artistic skill and creativity, as well as a thorough understanding of the poem itself, the instrument, and the history surrounding medieval retellings of the tale. Mr. Bagby's performance of the epic poem has been praised by the British Theatre Guide, The Washington Post, and The New York Times, among others.

Beowulf is not Mr. Bagby's first foray into the performance of Germanic and Anglo-Saxon oral poetry, and he is also the founder and director of Sequentia, a Paris-based ensemble for medieval music. He brings his academic and musical expertise in medieval music to both his shows and the ensemble, as well as writing about performance practice. He travels the world performing, as well as teaching workshops and courses around the world, including at Harvard University, the Autunno Musicale in Italy, and Stanford University. Mr. Bagby is also on the faculty of the Sorbonne University in Paris.
Mr. Bagby graduated from Oberlin Conservatory and Oberlin College, and now lives in Paris. The Athenaeum is thrilled to host him and his unique and exciting rendition of the epic poem Beowulf.