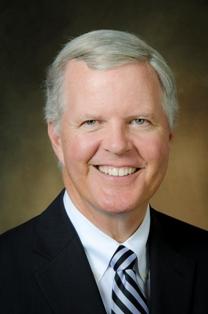 Uneasy Compromise
TOM CAMPBELL
FRIDAY, SEPTEMBER 30, 2011
LUNCHEON 11:45 a.m.; LECTURE 12:00 p.m.
Few Americans can boast more experience in government and politics than Tom Campbell. Today the Donald P. Kennedy Chair in Law and Dean of the Chapman University School of Law, he has served at various times over the last 35 years in all three branches of the federal government, as well as in California state government. A two-time member of the U.S. House of Representatives, Campbell has also devoted much of his career to teaching and scholarship. His talk will examine the "uneasy compromise" between the President and Congress in the conduct of war.

Following his graduation from the University of Chicago and Harvard Law School, Campbell clerked in the U.S. Court of Appeals and then the Supreme Court, for Justice Byron R. White. After completing his Ph.D. in economics, Campbell joined the Reagan Administration, first as a White House Fellow, before moving to the Justice Department. From 1981 to 1983, he served as Director of the Bureau of Competition at the Federal Trade Commission.

In 1983, Campbell began teaching law at Stanford University, remaining on faculty there until 2002. Between 1989 and 2001, he served five terms in the U.S. House of Representatives, interrupted by two years as a California State Senator (1993-1995). Following his congressional service, Campbell became the Bank of America Dean and Professor of Business at U.C. Berkeley's Haas School of Business. During his tenure, the school rose from 15th to 2nd in the Wall Street Journal's national business school rankings. From 2004 to 2005, Campbell also served as the Director of the California Department of Finance.

In 2009, Campbell became a Presidential Scholar and Visiting Professor of Law and Economics at Chapman University. In February of this year, he was appointed Dean of the School of Law.

Dean Campbell's visit is being jointly hosted by the Rose Institute for State and Local Government and the Athenaeum.