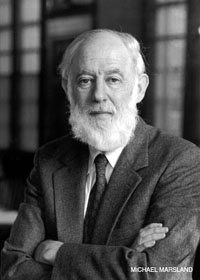 Theology and Imagination
GEOFFREY HARTMAN
MONDAY, OCTOBER 3, 2011
In 1939, Geoffrey Hartman joined thousands of other Jewish children escaping Nazi-occupied territories in the Kindertransport mission. After reuniting with his mother in the U.S., Hartman went on to become a leading literary scholar and theorist and a prominent public thinker on the Holocaust.

Hartman earned his Ph.D. in comparative literature at Yale University and has taught there nearly ever since, with stints at the University of Iowa and Cornell University, and visiting or advising positions at literally dozens of other schools and scholarly institutions. He remains on the faculty at Yale, as the Sterling Professor Emeritus of English and Comparative Literature, Senior Research Scholar, and the Project Director of the Fortunoff Video Archive for Holocaust Testimonies.

Hartman has authored 20 books and has served on the editorial boards of 14 different publications. He has advised and supported numerous national and community organizations, including the Anti-Defamation League and the U.S. Holocaust Memorial Council. He is a leading authority on Judaic and Holocaust studies in the U.S., Israel, and around the world. Hartman's efforts led to some of the earliest Holocaust survivor testimonies available to the public.

Professor Hartman's talk will evaluate the roles of reason and imagination in religious traditions, as expressed in the story of Creation. "It is my hope," he says, "that when theology's imaginative truths are fully explored they will be freed from dogmatism and appreciated also in a liberal arts curriculum."