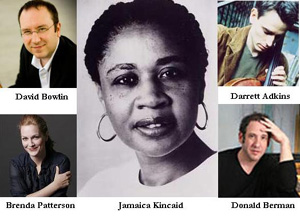 Piano Trio in B, Opus 8 (1854)
Johannes Brahms
Jamaica's Songs (2000)

Music by Su Lian Tan
Text by Jamaica Kincaid
JAMAICA KINCAID
BRENDA PATTERSON, mezzo sporano
DONALD BERMAN, piano
DAVID BOWLIN, violin
DARRETT ADKINS, violoncello
MONDAY, OCTOBER 10, 2011
Jamaica's Songs, commissioned by Middlebury College, was premiered in 2000 as part of the College's bicentennial celebrations. Many musicians who have performed this cycle, as well as audience members, find a great solace in its expression. They have remarked, and often, that they find in these songs a channel for mixed emotions regarding their mothers, almost a way out of them. Strong negative feelings as well as longing and pure childlike love emanate from the text by Jamaica Kincaid. She wrote these songs for me the year her mother died and I felt it very necessary to help in her process of healing. My heart went out to her, as heard sometimes in the instrumental writing, this most gifted and powerful of writers. I have meandered in Jamaica's garden in Vermont with pleasure, as I have found the courage to grow in her company
.
-Su Lian Tan
As professor of music and former Chairman of the Music Department at Middlebury College, Su Lian Tan is known for her unique musical perspective and connecting to her students through the exploration of all kinds of music. In addition to teaching composition, she also coaches, conducts, and coordinates both student and professional concerts.
The second concert in the Athenaeum's Fall 2011 Chamber Music series occurs Monday, October 10th. This concert will also provide a rare and wonderful opportunity to hear a recent work by composer Su Lian Tan, based on a text by Jamaica Kincaid.
Reservations for dinner are available and open to all. The concert begins at 6:45 p.m.
Piano trio in B , Opus 8 (1854)
Johannes Brahms
1. Allegro con brio
2. Scherzo
3. Adagio
4. Allegro
Donald Berman, piano
David Bowlin, violin
Darrett Adkins, violoncello
Jamaica's Songs (2000)
Music by Su Lian Tan
Text by Jamaica Kincaid
1. mystery
2. angry . . .
3. grave
4. whisper
5. grazioso
6. lullaby
7. stern . . .
8. terms
Brenda Patterson, mezzo-soprano