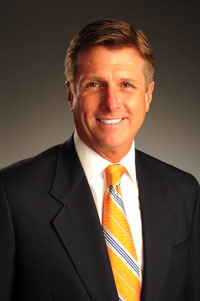 A Gay Man's Journey Through Men's Major League Sports
RICK WELTS, JR.
MONDAY, OCTOBER 24, 2011
Five months ago, a private conversation between Rick Welts and his former boss made the front page of The New York Times. Then the President and Chief Executive Officer of the NBA's Phoenix Suns, Welts became the highest-ranking executive in men's sports – and perhaps professional sports' highest-profile figure – to come out as gay. Now the President and Chief Operating Officer of the Golden State Warriors, he is one of the most respected business executives in the NBA.

Welts began his NBA career as a ball boy for his hometown Seattle SuperSonics in 1969. He soon became an assistant trainer for the team and after college became the assistant director of public relations. He headed Seattle's public relations during back-to-back appearances in the NBA Finals in 1978 and 1979, the latter becoming Seattle's only NBA championship.

In 1982 Welts joined the National Basketball Association's league offices as Director of National Promotions. He later became Vice President for Communications and eventually the league's third-in-command as Executive Vice President, Chief Marketing Officer, and President of NBA Properties. During his time with the NBA, Welts was a key part of the league's revitalization and resurgence. In 1984, Welts created the NBA All-Star Weekend, which was quickly replicated across professional sports. In 1992, he ran the marketing for USA Basketball's Olympic Dream Team; in 1996 he helped launch the WNBA.

Welts's talk is a part of the Athenaeum's ongoing series "Shifting Perceptions: Celebrating the Spectrum of Leadership," which aims to foster a greater sense of inclusivity and community at CMC by celebrating the bold leadership of women, gay men, and lesbians. The series is sponsored by nine different offices and organizations on campus, including the Athenaeum, the President's Office, Dean of Students, and the Dean of the Faculty.