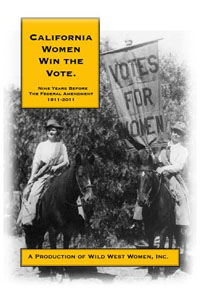 California Women Win the Vote: Screening and Panel Discussion
MARTHA WHEELOCK
DIANA SELIG
LILY GEISMER
WEDNESDAY, NOVEMBER 2, 2011
Nine years before the Tennessee state legislature ratified the Nineteenth Amendment, enfranchising women across the U.S., Proposition 4 gave California's women the vote in a special election on October 10, 1911. California Women Win the Vote tells the story of that effort.

The story of the California Suffrage Campaign shows how the fight for the vote was waged in a uniquely Californian way: suffrage workers took to the streets and street cars of the big cities, as well as small towns, mines, factories, and farms all over California. In this battle for enfranchisement, the weapons were handbills and billboards, soapbox speakers, press releases, door to door canvassing, drama and music, innovative marketing items, clubs and classrooms, all buoyed up by individuals' ardent commitments. This was no heavily financed campaign; it relied only on funds from bake sales and personal donations in dimes and dollars. But California's frontier tenacity and resourcefulness prevailed.

Martha Wheelock directed, researched, co-produced, and co-wrote California Women Win the Vote. This is her eleventh film since founding Ishtar Films in 1978. She is also the president of Wild West Women, whose mission is to produce educational materials about women, and a teacher of American literature, ethics, and women's studies at Harvard Westlake School in Los Angeles.

Diana Selig is an associate professor of history at Claremont McKenna College. Her scholarship and teaching focus on U.S. political history – particularly ethnicity, race, and gender. She earned her Ph.D. in history from the University of California at Berkeley and her B.A. from Yale University.

Lily Geismer is an assistant professor of United States history at Claremont McKenna College. A scholar of modern American political history, she focuses on gender and sexuality, liberalism, and national political realignment. She earned her Ph.D. in history from the University of Michigan and her B.A. from Brown University.

This presentation is sponsored by the Center for Writing and Public Discourse and the Claremont McKenna Gender Studies Program. The film will be shown at 6:30 p.m. and followed immediately by the discussion.