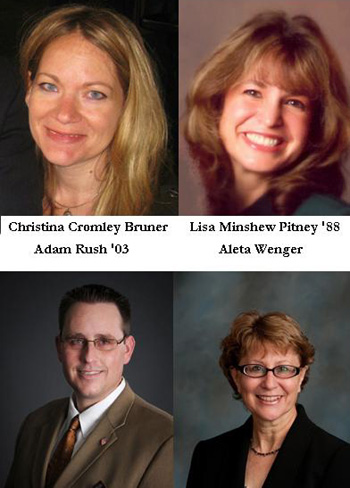 A Career in Government: Can You Achieve Work/Life Satisfaction?
LISA MINSHEW PITNEY '88
ADAM RUSH '03
CHRISTINA CROMLEY BRUNER
ALETA WENGER
WEDNESDAY, OCTOBER 26, 2011
LUNCHEON 11:30 a.m.; LECTURE 12:00 p.m.
Christina Cromley Bruner: As the Director for Strategy Management at the Department of the Interior's Office of Inspector General (OIG), Dr. Bruner works with OIG's senior leadership and staff to implement the OIG's strategy and monitor its effectiveness. Part of the strategy involves helping to create programs that encourage work-life balance. Dr. Bruner's background in policy analysis, experience in several offices in the OIG and at the U.S. Government Accountability Office prepared her to assume this role. (But nothing prepared her for taking on this new role after returning from six months of maternity leave as a new mother!)

Her tenure in the government is founded on extensive field experience, which has taken her to urban and rural communities throughout the United States. She served as Director of Policy at American Forests. She is also a Research Associate for the Northern Rockies Conservation Cooperative and serves on the editorial board of the Policy Sciences journal. She co-edited Foundations of Natural Resource Policy and Management and co-authored Finding Common Ground: Governance and Natural Resources in the American West and Adaptive Governance: Integrating Science, Policy, and Decision Making. She completed her doctorate at Yale University in 2001. She holds a certification in the Kaplan-Norton model of strategy management. She also serves on the Board of Directors of the Federal Children's Center, where her 18-month old son attends daycare.

Lisa Minshew Pitney '88: Lisa was born in Los Angeles and raised in Northern California. Lisa currently resides in La Crescenta with her husband, Jack Pitney, and their two children.

Lisa graduated Phi Beta Kappa from Claremont McKenna College with a bachelor's degree in Political Science. After completing her undergraduate work, Lisa earned a Master of Public Policy degree from the John F. Kennedy School of Government at Harvard University.

Lisa joined The Walt Disney Company in 1996 as the Manager of Government Relations for the Disneyland Resort. Lisa now serves as the Vice President of Government Relations for The Walt Disney Company.

In this role, Lisa represents The Walt Disney Company to city, county and state government, and serves on the boards of the Valley Industry and Commerce Association, the Central City Association of Los Angeles, the Motion Picture Association of America – California Group, the Valley Economic Alliance, the Los Angeles Area Chamber of Commerce, and the Public Affairs Council of the California Chamber of Commerce.

Adam Rush '03: Adam was born and raised in Corona, CA. Prior to CMC, Adam attended Santiago High School where he as a football standout. Adam graduated from CMC in 2003 with a dual degree in Government and Philosophy.

Following his graduation from CMC, Adam pursued graduate coursework in public policy and politics at Claremont Graduate University while also searching for employment. Adam landed a position as an urban planner with the County of Riverside Planning Office which helped him hone his interest in pursuing local politics as a profession. Adam was a key designer in many of the major projects associated with growing the small town of Eastvale which ultimately led to its incorporation in 2010. Adam was sworn in as the first Mayor of Eastvale on October 1, 2010. He currently resides in Eastvale with his wife, Kristin, and two daughters, Jordyn and Avery.

Aleta Wenger: Prior to joining CMC in 2008, Aleta was an Assistant Secretary of the University at Yale University with responsibility for strategic planning and outreach in the Middle East and Africa.

Before her recent positions in higher education, Ms. Wenger was a Foreign Service Officer with the U.S. Department of State, retiring at the end of 2005 with 25 years of U.S. government experience. Her government career includes diplomatic assignments in U.S. Embassies in Jordan, Egypt, Tunisia, Algeria, Qatar, and Bahrain, and in Washington, D.C. She was the Chief of the Public Diplomacy Sections and the U.S. Embassy's spokesperson in Qatar and Bahrain from 1999-2005. She supervised multinational staffs and managed budgets in support of U.S. foreign policy goals, including large-scale cultural diplomacy programs.

Ms. Wenger was a Branch Chief in the Bureau of Education and Cultural Affairs of the United States Information Agency, where she directed the Hubert H. Humphrey Fellowship Program and the University Affiliations Program. She has managed U.S. government-funded academic and cultural exchange programs totaling more than $20 million per year.

Wenger began her career with the Federal Government as a Presidential Management Intern in 1985. Earlier, she was a Congressional Intern in the office of U.S. Congressman Norman D. Dicks, and a Peace Corps Volunteer in Morocco. During graduate school, she was a State Department intern in Burkina Faso in 1984.

Ms. Wenger is a recipient of the U.S. Department of State Superior Honor Award and several Meritorious Honor Awards. She has a Master of Public Administration from the University of Washington and a B.A. in History and Anthropology from Pacific Lutheran University. She is married with three children who accompanied her on her overseas and domestic assignments.