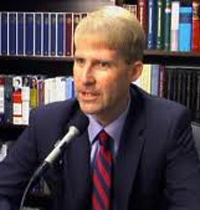 Standing Up to Washington: State Resistance to Federal Policy, Past and Present
JOHN DINAN
THURSDAY, OCTOBER 27, 2011
LUNCHEON 11:30 a.m.; LECTURE 12:00 p.m.
John Dinan is a professor of political science at Wake Forest University. His research focuses on state constitutionalism, federalism, and American political development and he is the author of Keeping the People's Liberties: Legislators, Citizens, and Judges as Guardians of Rights (1998) and The American State Constitutional Tradition (2006). He is the current chair of the Federalism and Intergovernmental Relations section of the American Political Science Association. His talk will be on state resistance to federal policy through history up to and including Obamacare. Professor Dinan received his Ph.D. from the University of Virginia.

John Dinan's Athenaeum address and visit to campus is sponsored by the Rose Institute for State and Local Government at Claremont McKenna College.