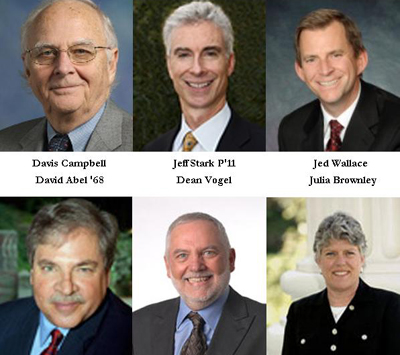 Is California K-12 Education in Crisis? If So, What Do We Do about It?
DEAN VOGEL
JED WALLACE
DAVIS CAMPBELL
JEFF STARK P'11
JULIA BROWNLEY
DAVID ABEL '68
THURSDAY, NOVEMBER 10, 2011
Davis Campbell, Senior Research Fellow at the Center for Applied Policy in Education, University of California in Davis

Davis Campbell has led a distinguished career in public education; he was the Executive Director of the California School Boards Association, and served on the CSBA from 1988-2001. Campbell served as Executive Director of the California Institute for School Improvement and managing partner of SRA Associates from 1983-1988. From 1977-1983 he served as Deputy Superintendent of Public Instruction for the State of California. Campbell serves on a number of state level boards in public education including EdSource (President, 2007-2009), the Center for the Future of Teaching and Learning (founding Chairman), the California Institute for School Improvement, and the California Cities, Counties, Schools Partnership (founding board member). In Yolo County he also serves as a Commissioner for the Yolo County Aging and Adult Services Commission and is a member of the Board of Advisors for the UCD School of Education.

Dean E. Vogel, President of the California Teachers Association

As CTA President, Dean E. Vogel has sought to engage educators in policy decisions, and argues that the union can improve the learning conditions of all students by improving the working conditions of educators across the state. Since 1990, Vogel has been an elementary school counselor in the Vacaville Unified School District in Solano County. He was named "Advocate of the Year" by the California Association of School Counselors in 2006. He has also taught extended education courses at three California State University campuses in Sacramento, Sonoma, and Hayward and at the University of California at Davis. In addition, he spent 10 years as a resident teacher in the University of California Teacher Education Program.

Jed Wallace, President and CEO, California Charter Schools Association

Jed Wallace serves as the President and CEO of the California Charter Schools Association, a membership organization supporting the state's 912 charter schools serving approximately 365,000 students. Jed began his career in public education as a teacher at Hooper Avenue Elementary School, a 2,000-student school in South-Central Los Angeles. Serving there for seven years, he established a successful school-within-the-school that became the basis for an effort to convert Hooper Avenue to charter status. He later worked in the Office of the Superintendent at San Diego City Schools where, among other duties, he was responsible for the oversight of the District's 22 charter schools. Immediately before coming to the Association, Jed served as the Chief Operating Officer of High Tech High, where he oversaw all operational and financial aspects of the organization during a period when High Tech High grew from one school serving 400 students into eight schools serving more than 3,000 students. Jed received a Bachelor's degree in the Science of Foreign Service from Georgetown University, an MFA in playwriting from UCLA, and an MBA from the Kellogg School of Management at Northwestern University.

Julia Brownley, State Assemblywoman (CA-41st District)

Assemblywoman Julia Brownley is serving her fourth year as Chairwoman of the Assembly Education Committee bringing a rich understanding of educational issues gleaned during her 12 years on the board of education of the Santa Monica-Malibu Unified School District, including three terms as board president. She was elected to the California State Assembly in 2006, and re-elected in 2008 and 2010 from a district that currently spans from Santa Monica in the south to Oxnard in the north. In addition to chairing the Education Committee, she serves on the Committee on Higher Education, Budget Subcommittee, the State Allocation Board, the Joint Legislative Budget Committee, and the California Commission on the Status of Women, among others, Brownley has been honored as one of "12 Remarkable Women" by the National Women's Political Caucus, Los Angeles Westside in 2008, and "2005 YWCA Woman of the Year."

Jeff Stark P'11, Vice President, Claremont Unified School District Board of Education

Jeff Stark is a Registered Principal and partner in an investment advisory firm he co-founded in 1994. He earned an Economics degree from the University of California at Santa Barbara, and currently serves on the following community boards: the Claremont Senior Foundation, the Claremont Educational Foundation, and the L.A. County Fair Association. He has also served on the Claremont Community Foundation, the District Asset Advisory Committee, the UCC Early Childhood Center, the Pilgrim Place Finance Committee and Claremont AYSO.

David Abel '68, Chairman and Managing Director, VERDEXCHANGE Institute (Moderator)

David Abel is Chairman and Managing Director of the VERDEXCHANGE Institute, an environmental think tank and publisher that informs innovators wishing to employ and deploy green technology. Abel is also president and CEO of ABL Inc., a California-based public policy consulting firm which publishes The Planning Report, focusing on land-use issues in Southern California, VERDEXCHANGE News, and the Metro Investment Report, which covers infrastructure. Abel chairs a number of civic organizations, including the Los Angeles County Economic Develop Corporation's Green Economy Task Force, New Schools Better Neighborhoods, and the University of Southern California's Masters in Public Policy Advisory Board. He is also on the board of USC's Bedrosian Center on Governance and the Public Enterprise and the Trust for Public Land California, among others. He is a lecturer on regionalism at the University of California, San Diego.