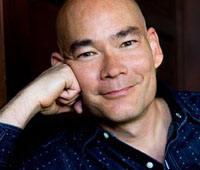 An Evening with the Poet
ATSURO RILEY
MONDAY, NOVEMBER 14, 2011
Poet Atsuro Riley's work is lauded as some of the most promising and groundbreaking in contemporary poetry. His recent 2010 collection of poetry, titled Romey's Order, is an engaging work of poetry within the unifying framework of a story. The vivid imagery, compelling descriptions, and expressive language of Romey's Order have left critics and readers alike singing Atsuro Riley's praises. His unconventional style yields exciting and fresh works, and his poems are loved in part for the rhythmic and percussive feel that many of his works reflect.

While Romey's Order is his first book, Riley's work has appeared in Poetry, The Threepenny Review, and The McSweeney's Book of Poets Picking Poets. He has also received grants from the Silicon Valley Community Foundation, and many awards and honors for his innovative and engaging work, including Witter Bynner Fellowship from the Library of Congress, and the Wood Prize from Poetry magazine. Many of his poems reflect themes from Riley's upbringing in South Carolina; now he lives in California.
Atsuro Riley is the author of
Romey's Order
(University of Chicago Press, 2010), winner of the Kate Tufts Discovery Award (administered by Claremont Graduate University),
The Believer
Poetry Award, and the Witter Bynner Award from the Library of Congress. His work has also been honored with the Pushcart Prize, the Wood Prize given by
Poetry
magazine, and a Lannan Foundation Marfa residency.
RECENT PODCAST