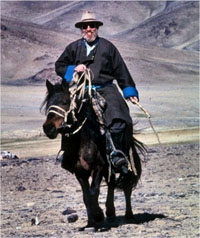 Tibet Transformed: How Modernization is Affecting the Culture and Traditions of Tibet
MELVYN GOLDSTEIN
TUESDAY, NOVEMBER 15, 2011
In the last three decades, China's rapid economic development has also penetrated Tibet. Infrastructural projects, tourism, and communication networks have made Tibet more closely integrated with the Chinese economy and society. Inevitably, these changes have affected the culture and traditions of Tibet. Professor Melvin Goldstein, one of the world's most knowledgeable and respected experts on Tibet, has spent decades studying Tibetan culture in general and its nomadic population in particular. In this lecture on contemporary Tibet, Professor Goldstein will provide a fascinating account of how modernization is transforming the lives of Tibetan nomads. He will also analyze how socioeconomic changes on the ground in Tibet are shaping the political future of Tibet.

Dr. Goldstein is the John Reynolds Harkness Professor of Anthropology and Co-Director of the Center for Research on Tibet at Case Western Reserve University. He is also a member of the National Academy of Sciences. He is a specialist in Tibetan society and history, and has conducted extensive fieldwork in Tibet (Tibet Autonomous Region of China) on a range of topics including nomadic pastoralism, oral history, monasticism, and socio-economic change in rural Tibet. Dr. Goldstein's current projects include: a large Tibetan Oral History WebArchive that will be permanently housed at the Library of Congress, Volume Three of his series on Modern Tibetan History, and an NSF funded longitudinal study of modernization and change in rural Tibet. He is the author of 12 books and over 100 articles including A History of Modern Tibet, Volume One, (1913-51, the Demise of the Lamaist State), A History of Modern Tibet, Volume Two, (1951-1955, The Calm Before the Storm), The Snow Lion and the Dragon: China, Tibet and the Dalai Lama, Nomads of Western Tibet, On the Cultural Revolution in Tibet: The Nyemo Incident of 1969, and A Tibetan Revolutionary: The Political Life of Bapa Phüntso Wangye.

Professor Goldstein's Athenaeum lecture is sponsored by the Keck Center for Internationl and Strategic Studies at CMC.