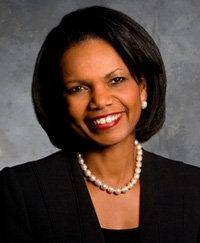 Remarks by Condoleezza Rice
CONDOLEEZZA RICE
WEDNESDAY, NOVEMBER 30, 2011
Condoleezza Rice is currently a professor of political economy in the Graduate School of Business; the Thomas and Barbara Stephenson Senior Fellow on Public Policy at the Hoover Institution and a professor of political science at Stanford University. She is also a founding partner of The Rice Hadley Group. From January 2005-2009, Rice served as the 66th Secretary of State of the United States, the second woman and first African American woman to hold the post. Rice also served as President George W. Bush's Assistant to the President for National Security Affairs (National Security Advisor) from January 2001-2005, the first woman to hold the position. Rice served as Stanford University's Provost from 1993-1999, during which she was the institution's chief budget and academic officer. As Provost, she was responsible for a $1.5 billion annual budget and the academic program involving 1,400 faculty members and 14,000 students. As professor of political science, Rice has been on the Stanford faculty since 1981 and has won two of the highest teaching honors — the 1984 Walter J. Gores Award for Excellence in Teaching and the 1993 School of Humanities and Sciences Dean's Award for Distinguished Teaching.

She has authored and co-authored numerous books, including: bestseller Extraordinary, Ordinary People: A Memoir of Family (2010); Germany Unified and Europe Transformed: A Study in Statecraft (1995) with Philip Zelikow; The Gorbachev Era (1986) with Alexander Dallin; Uncertain Allegiance: The Soviet Union and the Czechoslovak Army (1984). Her most recent book, No Higher Honor: A Memoir of My Years in Washington, will be released in November 2011.

In 1991, Rice co-founded the Center for a New Generation, an innovative, after-school academic enrichment program for students in East Palo Alto and East Menlo Park, California. In 1996, CNG merged with the Boys and Girls Club of the Peninsula (an affiliate club of the Boys and Girls Club of America) of which she remains actively involved in today. In addition, she is a member of the boards of the Commonwealth Club, the Aspen Institute, and the John F. Kennedy Center for the Performing Arts.

Rice's visit to Claremont McKenna College is made possible through the support of the Res Publica Society, Marian Miner Cook Athenaeum, Berger Institute for Work, Family and Children, Keck Center for International Strategic Studies, Kravis Leadership Institute, Lowe Institute of Political Economy, and Salvatori Center for the Study of Individual Freedom.