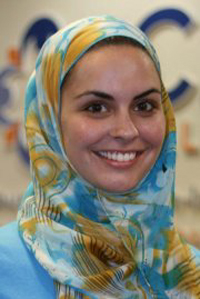 Islamophobia, Discrimination, and National Security
AMEENA MIRZA QAZI
MONDAY, FEBRUARY 6, 2012
In the past two months, a presidential candidate called for the profiling of Muslims, a Tennessee lawmaker told Muslims to "go back to where they came from," and a large home improvement store pulled ads from a television show ostensibly because it didn't portray Muslims in a negative light. How do these acts influence cases of discrimination? What have they to do with our nation's national security policies?

Ameena Qazi is an attorney practicing civil rights law in Southern California. She holds a B.A. in Political Science from UCLA and a J.D. from Wayne State University School of Law, and is a member of the California State Bar.

Qazi has worked with the Wayne State University Civil Rights Litigation and Disability Rights Clinics, United Auto Workers, and the Council on American-Islamic Relations. She has been involved with research projects including the Pew Research Center's study "Muslim Americans: Middle Class and Mostly Mainstream." Her work focuses on First Amendment, equal protection, and due process issues.

Ameena Qazi's Athenaeum presentation is jointly sponsored by the Claremont Colleges Muslim Student Association, the Center for Human Rights Leadership at CMC, and the Athenaeum.