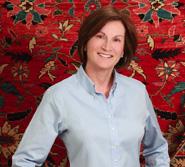 A Conversation with a Leader
CONNIE DUCKWORTH P'12 P'14
MONDAY, FEBRUARY 20, 2012
In 2004, Connie Duckworth P'12 P'14 founded ARZU, Inc., a non-profit organization based on an innovative model of social entrepreneurship that helps Afghan women weavers and their families break the cycle of poverty by providing them steady income and access to education and healthcare by sourcing and selling the rugs they weave. She serves pro bono as chairman and chief executive officer. Duckworth is a retired partner and managing director of Goldman, Sachs, & Co., where she was named the first woman sales and trading partner in the firm's history during her 20 year career from 1981-2001.


Duckworth is currently a trustee of Northwestern Mutual Life Insurance Company and a director of Russell Investment Group and Steelcase Inc. In her philanthropic work, Duckworth serves on the boards of The Wharton School in Philadelphia, the Interfaith Youth Core in Chicago and NorthShore University HealthSystem, in Evanston, Illinois, where she was the first woman to be named chairman of the board. She is a member of the U.S.-Afghan Women's Council, a public/private partnership aligned with the U.S. State Department and past chair of the Committee of 200, the organization of leading women entrepreneurs and corporate business executives in the U.S. Duckworth also co-authored a primer on entrepreneurship entitled The Old Girls Network: Insider Advice for Women Building Businesses in a Man's World (Basic Books 2003).


The recipient of numerous awards for leadership, advocacy, social impact, innovation and global presence, Duckworth was awarded the 2011 Wharton School Dean's Medal, the school's highest honor. In addition, she was named a 2008 Skoll Foundation honoree for Social Entrepreneurship. Duckworth holds an M.B.A. from The Wharton School of the University of Pennsylvania and a B.A. from the University of Texas.


Connie Duckworth's visit to the Marian Miner Cook Athenaeum is sponsored by the President's Leaders Forum program.