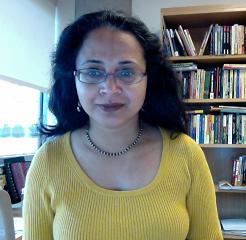 India: A Revolution of Rising Expectations
ASEEMA SINHA
MONDAY, FEBRUARY 27, 2012
Dr. Aseema Sinha is the first holder of the Wagener Family Associate Professor of Comparative Politics and George R. Roberts Fellow. This evening's lecture marks Professor Sinha's ceremonial installation as the inaugural holder of the chaired professorship established in honor of the Wagener family.

Professor Sinha's presentation will focus on the emerging dilemmas in India: the combination of growth with rising inequalities, the pursuit of a unique model of transition that combines a second democratic revolution and inclusive growth with a market economy, and the challenges of India's new-found status at the global level for some of India's domestic contradictions.

Prior to joining the faculty at Claremont McKenna College, Professor Sinha served on the faculty at the University of Wisconsin-Madison and was a fellow at the Woodrow Wilson Center in Washington, D.C. Her research interests relate to the political economy of India and India-China comparisons.


At CMC, she teaches courses on South Asia, Social Movements, Globalization and Developing Countries, and Comparative Politics. She is the author of the prize-winning book, The Regional Roots of Developmental Politics in India: A Divided Leviathan (Indiana: Indiana University Press, 2005).