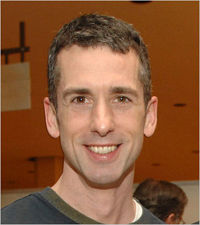 It Gets Better
DAN SAVAGE
WEDNESDAY, FEBRUARY 29, 2012
Dan Savage has written his column "Savage Love" for Seattle's alternative weekly paper
The Stranger
since 1991. Now syndicated to more than 50 other papers, Savage has become one of America's leading voices on topics relating to sex and sexuality. And over the last 18 months, he has had substantial influence on our national conversation about gay rights and the place and value of queer people in American society.
In the fall of 2010, several American teenagers committed suicide in response to homophobic bullying by their peers. Nine of ten gay teenagers face bullying and harassment at school. And queer teens are four times likelier than their peers to attempt suicide. In response, Savage and his husband started the
It Gets Better Project
. The Project is a collection of videos – messages from gay and straight adults to gay teens that "It gets better." A week after Savage and his husband, Terry Miller, posted the first video, there were 200 more. Now there are over 30,000 videos that have been viewed more than 40 million times.
Savage is a regular contributor to
This American Life
, a frequent commentator on national op-ed pages, and the author of four books. In spring 2011, he edited the collection
It Gets Better: Coming Out, Overcoming Bullying, and Creating a Life Worth Living
.
Dan Savage's talk is a part of the Athenaeum's ongoing series "Shifting Perceptions: Celebrating the Spectrum of Leadership," which aims to foster a greater sense of inclusivity and community at CMC by celebrating the bold leadership of women, gay men, and lesbians. The series is sponsored by nine different offices and organizations on campus, including the Athenaeum, the President's Office, and the Dean of Students Office.