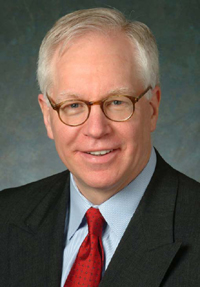 The Entrepreneurial Imperative
CARL SCHRAMM
THURSDAY, MARCH 22, 2012
LUNCHEON 11:30 a.m.; LECTURE 12:00 p.m.
The secret strength of the U.S. economy, Carl Schramm is showing governments, policy makers, and academics, is that entrepreneurs can perform the same economic miracles in other parts of the world, even in the most underdeveloped nations.
While the head of the Kauffman Foundation, world's leading foundation fostering entrepreneurship, Schramm offered a program of policy reforms and initiatives to make starting and growing businesses easier and less costly. He also advanced a new field of inquiry called expeditionary economics, which focuses on rebuilding the economies post-conflict nations, including Iraq and Afghanistan.
An entrepreneur himself, Schramm has founded several successful companies in the health care finance and information technology industries. Has advised govern¬ment leaders worldwide on promoting job growth and economic expansion, and he writes and speaks widely, encouraging people everywhere to unleash the power of entrepreneurship.
He is a Founding Board Member of Startup America Partnership, a private-sector alliance intended to dramatically increase the development, prevalence and success of innovative, high-growth U.S. firms.

Schramm's two books, The Entrepreneurial Imperative: How America's Economic Miracle Will Reshape the World (and Change Your Life) (2006) and Good Capitalism, Bad Capitalism and the Economics of Growth and Prosperity (2009), are important blueprints for economic growth. In them, he shows how less developed nations can accelerate growth through entrepreneurship, while urging the U.S. itself to reinvigorate its own commitment to small business as the force that made it the world's leading economy.
Carl Schramm's work has appeared in many publications, including Foreign Affairs, The Wall Street Journal, The Financial Times, Business Week, USA Today. He frequently appears on CNBC and Fox Business News.

Schramm's talk is sponsored by the Kravis Leadership Institute.