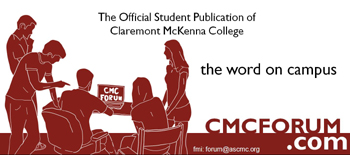 CMC Forum Idea Night at the Ath: Rolling in the Dough- How to Write a #1 Single in 2012
DANIEL EVANS '12
CMC Forum Idea Night at the Ath: Fly Me to the Moon (and Beyond)
NADEEM FAROOQI '15
CMC Forum Idea Night at the Ath: Technological Future- When Humans Become God
SEAN MCQUEEN '13
CMC Forum Idea Night at the Ath: A New Era for CMS Athletics
JENNIFER RINGOEN '12
CMC Forum Idea Night at the Ath: Why Eating Bugs Can Save the World- The Case for Entomophagy
MAX ZIPPERMAN '14
TUESDAY, MARCH 6, 2012
"Idea Night" has returned with the biggest grand prize yet: a ticket to the first weekend of Coachella. At last year's Idea Night, attendees heard about the flaws with financial modeling, the need for a "J (January) Term," the importance of fine tailoring, and the radical rethinking of defense policy. Jesse Blumenthal '11 took home the title of Best Idea with a strong case for why America needs to finally fight a war that is actually profitable: invading our most logical target, Canada. The Forum is currently reviewing submissions and will select four applicants to present and compete for the grand prize.

If you don't know what Idea Night is, it could be described as an event somewhere between a thesis-defense with a shot clock and a start-up pitch with a gourmet meal and wine for those of an "appropriate age".

Students are invited to submit papers, projects or original research for the enjoyment and education of the CMC community. Participants and their topics will be selected by the Forum's editorial board for uniqueness, interest, and quality. We are looking for interesting arguments on any topic — politics, culture, CMC, etc. Although the content will vary greatly, the format will remain constant: each participant will have 10 minutes, a projector and a podium. A short Q & A session will follow each talk.

Presentation skills will be valued equally alongside content. At the end of the event, the audience will be asked to rank the speakers on their interest and persuasiveness, and while everyone will get a token of our appreciation, the winner will be awarded a free ticket to the first weekend of Coachella. The second place finisher will receive a $50 dollar gift card to the village restaurant of his/her choice. The third and fourth place finishers will each receive a $25 gift card to the village restaurant of their choice.