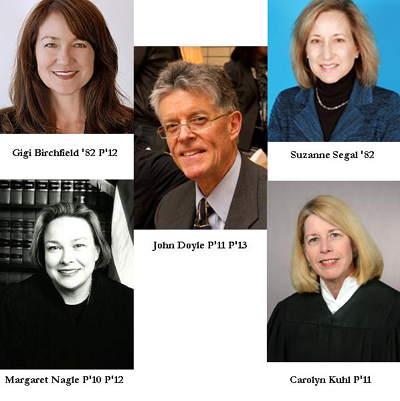 Women & Leadership Alliance Workshop
A Career in Law: Can You Achieve Work/Life Satisfaction?
GIGI BIRCHFIELD P'12
JOHN DOYLE P'11 P'13
CAROLYN KUHL P'11
MARGARET NAGLE P'10 P'12
SUZANNE SEGAL '82
WEDNESDAY, MARCH 7, 2012
LUNCHEON 12:00 a.m.; LECTURE 12:20 p.m.
Gigi Birchfield, Esq.- Birchfield is the Managing Partner of the Southern California offices of Major, Lindsey & Africa (Los Angeles, Orange County and San Diego), and co-Global Practice Leader for the firm's In-House Practice. Gigi graduated with a B.A. in English, magna cum laude, in 1982 from Claremont McKenna College. She received her J.D. in 1986 from the University of California at Los Angeles School of Law. Gigi began her legal career at Paul, Hastings, Janofsky & Walker in Los Angeles, where she practiced law for six years as a real estate transactional attorney. In 1992 she joined Citicorp Real Estate, Inc. as Assistant General Counsel in its Los Angeles office, where she was responsible for supervising the legal function for all of the CREI offices in the Western Region: Los Angeles, Orange County, and San Francisco.

In January of 2001 Gigi opened the Southern California office of Major, Lindsey & Africa and was responsible for growing and managing the office from its inception. In addition to being the Managing Partner of the Southern California offices for the past 10 years, Gigi has held various management positions such as Office Practice Leader and Regional Practice Manager (In-House), as well as her current role as co-Global Practice Leader for the In House group. Gigi's recruiting practice has focused primarily on conducting in-house searches across industry lines, both nationwide and local, with a special emphasis on the placement of senior attorneys, including General Counsel. Gigi has also placed partners in law firms, and has assisted out of state law firm clients in opening a Los Angeles office.

Gigi resides in the Los Feliz area with her husband Mark and their three children and two dogs. She is proud to say that her eldest daughter is a senior in college, at Gigi's alma mater, while the other two kids are in middle school and high school, respectively. In her spare time, Gigi enjoys reading, spending time with her family, and gardening (and has been known to bring the "fruits of her labor" into the LA office). Gigi is very involved with her alma mater, having been a past president and current board member of the Claremont McKenna College Alumni Association as well as an ex-officio member of CMC's Board of Trustees. Gigi is also serving on the board of the Berger Institute for Work, Family, and Children, and is proud to be a member of the Support Council for The Rape Treatment Center and Stuart House.

John P. Doyle- Doyle is a Superior Court Judge who has served on the bench since 1996. He now sits in a civil assignment in the Glendale Branch Court. Judge Doyle has served over the years in several different courthouses around Los Angeles County, and he has worked both in criminal and civil assignments at various times. During the period 2008-2009, he served as a member of the Court's Executive Committee.

Judge Doyle has served on the Board of Dispute Resolution Services, now The Center for Civic Mediation, for many years. He began his active participation in the world of ADR as a JASOP volunteer at the downtown Superior Courthouse almost twenty-five years ago. During that period, Judge Doyle was a member of the Los Angeles County Bar Association's Litigation Section Executive Committee, 1990-1996.

Prior to re-entering private law practice in 1987, Judge Doyle served for five years as an Assistant United States Attorney for the Central District of California in Los Angeles. He spent about half that period of time in the Civil Division of the office, before moving to the Criminal Division of the office in 1984.

Judge Doyle has been a member of Pepperdine Law School's adjunct faculty since 1993, and has taught courses in domestic violence, trial practice, and mediation. He serves frequently at the law school on various panels and as a moot court judge, and attends as many Pepperdine continuing education programs as he can, including many at Pepperdine's Straus Institute for Dispute Resolution. Judge Doyle has also been fortunate to teach three times at Pepperdine's London, England law program, most recently during the summer term 2011. Judge Doyle's wife, Carol A. Chase, currently the Associate Dean for Academics at the Pepperdine Law School, served as the law faculty member in residence during that summer term in London.

In his capacity as the President of the Parent Network (the parents' support group) at Claremont McKenna College (CMC) during 2009 and 2010, Judge Doyle served as an ex-officio member of CMC's Board of Trustees. Judge Doyle and his wife have enjoyed frequent visits to Claremont since 2004 when their son, Warren (Pomona College '08), entered college there, and more recently to visit Meredith (CMC '11) and Harrison (CMC '13), and to participate in Parent Network and other activities at the College.

Judge Doyle graduated from Harvard College in 1971 and, following stints as a Naval Officer and as a fifth grade teacher, graduated from the Hastings College of the Law in 1978. Prior to his employment at the US Attorney's Office in Los Angeles beginning in 1982, Judge Doyle worked in New York for four years as an associate at two different law firms there, Coudert Brothers and Hughes, Hubbard & Reed.

Carolyn B. Kuhl- Kuhl has served on the California Superior Court since 1995. Currently she is the Supervising Judge of the Civil Division of the Los Angeles Superior Court, a position she also held in 2003 and 2004. She was a founding judge of the Complex Litigation Program of the Los Angeles Superior Court and presided in a Complex Litigation department for eight years. Judge Kuhl has served as a Member of Judicial Council, the policy-making body for the California State Court system, and as a Member of the statewide Advisory Committee on Civil Jury Instructions. She is a member of the American Law Institute and served as an Adviser to the Institute's project on Principles of the Law of Aggregate Litigation. She serves on the Board of Overseers of the Rand Institute for Civil Justice and on the Board of Trustees of Claremont McKenna College. Prior to taking the bench, Judge Kuhl was a partner in the law firm of Munger, Tolles & Olson. She served in the United States Department of Justice from 1981 through 1986, including service as Principal Deputy Solicitor General of the United States. She was a law clerk to the Honorable Anthony M. Kennedy when he was a Judge of the United States Court of Appeals for the Ninth Circuit. Judge Kuhl graduated with distinction from Duke Law School and received an AB degree in chemistry from Princeton University.

Judge Kuhl is married to the Honorable William F. Highberger, who also serves on the California Superior Court in Los Angeles, previously having been a partner in the law firm of Gibson, Dunn & Crutcher. They have two daughters, Helen Highberger, CMC '11, who currently works as a software development engineer, and Anna Highberger, a junior at Georgetown University.

Margaret Nagle-Nagle was appointed as a United States Magistrate Judge in 1997. Prior to her appointment, she was a partner (1983-1997) and associate (1978-1983) at Stroock & Stroock & Lavan LLP in Los Angeles and an associate at Goodwin Procter LLP in Boston (1975-1978). As an attorney, Judge Nagle engaged in a broad-based litigation practice, handling antitrust, employment, environmental, intellectual property, products liability, professional malpracticeJudge Nagle graduated summa cum laude from Boston College in 1972, with a double major in mathematics and economics. She received her law degree from the Columbia University School of Law in 1975, and was a teaching assistant in property law during her third year at Columbia.

Judge Nagle and her husband, Rex Heinke, were classmates at Columbia Law. Their son, Will Heinke, graduated from CMC in 2010. Their daughter, Meghan Heinke, is a senior at CMC.

Suzanne H. Segal-Segal was appointed a United States Magistrate Judge for the Central District of California on July 31, 2002. As a Magistrate Judge in the Central District, Judge Segal presides over federal civil and criminal proceedings. Magistrate Judges serve as the judge for all purposes in civil cases where the parties have consented to the Magistrate Judge. In addition, Magistrate Judges in the Central District of California are referred discovery matters, habeas petitions, certain civil rights cases, and social security benefits actions. Magistrate Judges preside over settlement conferences in many civil cases.

Before taking the bench, Judge Segal served as an Assistant United States Attorney in the Civil Division of the Los Angeles U.S. Attorney's Office, from 1990 to 2002. While at the U.S. Attorney's office, Judge Segal represented individuals and federal agencies in employment, civil rights, tort, and other litigation involving the United States. From 1999 to 2002, she served as the Chief of Civil Appeals for the U.S. Attorney's Office. In this position, she supervised all matters before the Ninth Circuit Court of Appeals involving the Civil Division. Prior to serving in the U.S. Attorney's Office, Judge Segal was an associate at Dewey, Ballantine in Los Angeles.

Judge Segal is a member of the Executive Committee of the Litigation Section of the Los Angeles County Bar and the Board of Governors for the Association of Business Trial Lawyers. Judge Segal previously served as the coordinator of the Central District of California's Pro Bono Civil Rights Panel and is a member of the Central District's Pro Bono and ADR Committees. Judge Segal received her bachelor of arts from Claremont McKenna College in 1982 and a Juris Doctorate from Cornell Law School in 1987. She maintains her chambers in Los Angeles.