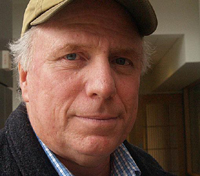 An Evening with the Author
IAN FRAZIER
THURSDAY, MARCH 8, 2012
A year after he graduated from Harvard College, Ian Frazier began writing for The New Yorker, and he has been doing so nearly ever since. Now a staff writer for the magazine and regular contributor to The Atlantic and Outside, he is a bestselling author, humorist, and journalist.

Frazier's books include Great Plains (1989), Family (1994), and On the Rez (2000). His most recent book, Travels in Siberia, chronicles a decade of fascinating, exciting, bizarre, and entertaining adventures across eastern Russia. The New York Times described it as "On the Road meets The Gulag Archipelago," praising Frazier's "skillful storytelling, acute powers of observation, and wry voice." Barnes & Noble Review called it "the genius Siberian Travelogue you should not miss."

Frazier is currently co-teaching a class on travel narratives with Professor Jamaica Kincaid in the Claremont McKenna Literature Department as a Podlich Distinguished Scholar.