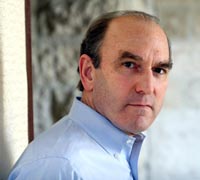 Arab Spring and Arab Winter: The Fate of Democracy in the Middle East
ELLIOTT ABRAMS
MONDAY, MARCH 19, 2012
The Arab Spring has brought the downfall of several autocrats who were American allies, and most Americans applauded. The Bush Administration's "Freedom Agenda" posited that the stability of many U.S. non-democratic allies in the Middle East was illusory and that we should be promoting democracy. But will free elections bring real democracy or Islamist regimes that narrow political and social space? Are we doomed to choose between friendly dictators and hostile elected governments? Elliott Abrams will examine these questions in his talk: "Arab Spring and Arab Winter: The Fate of Democracy in the Middle East." The choices that face the United States, and how American policies might affect outcomes in the region, will also be discussed.

Elliott Abrams is Senior Fellow for Middle Eastern Studies at the Council on Foreign Relations in Washington, D.C. He served as Deputy Assistant to the President and Deputy National Security Advisor in the Administration of President George W. Bush, where he supervised U.S. policy in the Middle East for the White House. After serving on the staffs of Sen. Henry M. Jackson and Daniel P. Moynihan, he was an Assistant Secretary of State in the Reagan Administration and received the Secretary of State's Distinguished Service Award from Secretary George P. Shultz.

Mr. Abrams was president of the Ethics and Public Policy Center in Washington, D.C., from 1996 until joining the White House staff. He was a member of the United States Commission on International Religious Freedom from 1999 to 2001, and Chairman of the Commission in the latter year. Mr. Abrams is currently a member of the U.S. Holocaust Memorial Council, which directs the activities of the U.S. Holocaust Memorial Museum, and teaches U.S. foreign policy at Georgetown University's School of Foreign Service. He is a graduate of Harvard College, the London School of Economics, and Harvard Law School.

Elliott Abrams' Athenaeum lecture is part of the President's Distinguished Speaker Series and is jointly sponsored by the Salvatori Center at CMC.