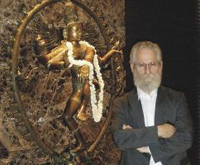 Does the Past have a Future? On the Fate of Classical Cultures
SHELDON POLLOCK
TUESDAY, MARCH 20, 2012
With so much recent focus on the fate of current nations in the midst of cultural upheaval, little attention has been given to the history that can inform us on the issues. Sheldon Pollock, however, will remind us of the importance of these ideas in his talk, "Does the Past have a Future? On the Fate of Classical Cultures."

Sheldon Pollock is the William B. Ransford Professor of Sanskrit and Indian Studies at Columbia University. Sheldon Pollock is the founding editor of the Murty Classical Library of India (Harvard University Press, 2013) and joint editor of South Asia across the Disciplines (the university presses of California, Chicago, and Columbia, 2010). His most recent monograph, The Language of the Gods in the World of Men: Sanskrit, Culture, and Power in Premodern India, was recently issued in paper (U. of California Press, 2009)), and two edited volumes are: Forms of Knowledge in Early Modern Asia: Explorations in the Intellectual History of India and Tibet, 1500-1800 (Duke University Press, 2011), and, with Benjamin Elman and Kevin Chang, World Philology (Harvard University Press).

He is currently working on Liberation Philology and Reader on Rasa: A Historical Sourcebook in Indian Aesthetics, the first in a new series of sourcebooks in classical Indian thought that he is editing for Columbia U. Press. He was recently awarded a Distinguished Achievement Award from the Mellon Foundation, which awards for excellence in higher education in cultural affairs. He has also recieved the President's Certificate of Honour for Sanskrit and the title Padma Sri for distinguished service in the field of letters from the Government of India.

Professor Sheldon Pollock's lecture at the Athenaeum is made possible through the generosity of CMC alumnus, L.J. Kutten '74, founder of the annual Kutten Lecture in Religion and Philosophy.