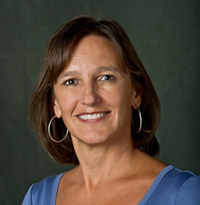 Super Bowl XLVI: Financial Success and Community Building
ALLISON MELANGTON
TUESDAY, MARCH 27, 2012
Allison Melangton has been the President and CEO of the 2012 Indianapolis Super Bowl Host Committee since October of 2008. She brings over 25 years of National and International experience in sports and events management to this prestigious event.

Allison moved to Indianapolis in 1983 when the City of Indianapolis was in the beginning stages of implementing a sport tourism strategy and relocating national sports organizations to Indianapolis. USA Gymnastics moved from Texas to Indianapolis giving Allison the opportunity to leave Colorado and become a Hoosier. For 12 years she worked with USA Gymnastics directing 100 national and international events.

Following her tenure at the USA Gymnastics, Allison shared her knowledge and expertise with the Indiana Sports Corporation as Senior Vice President of Events. While at the Sports Corporation she bid on, planned, and directed numerous events including; Olympic Trials, World Championships, Women's NCAA Division I Basketball Championships, Big Ten Tournaments and administered both Indianapolis Super Bowl bids for 2011 and 2012. Allison has worked at 7 Olympic Games, 4 as an Associate Producer of the Gymnastics Competition for NBC Sports, and won 4 Emmy Awards for her work.

Allison is a native of Auburn, Maine and a graduate of Colorado State University. She has been an Indiana resident for over 25 years. Her visit to CMC is part of the Robert Day School Distinguished Speaker Series.