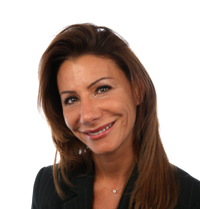 Breaking Down Barriers in Middle East Finance- CANCELLED
HODA ABOU-JAMRA
WEDNESDAY, MARCH 28, 2012
Some successful women financiers have found it easier to create their own financial firms rather than to fight to get ahead in male-dominated companies, according to Chris V. Nicholson, writing for the New York Times.

Hoda Abou-Jamra still remembers the meeting when potential investors for her private equity fund thought she was the secretary. "I would ask a question, and they would answer to the man next to me. I would answer their question, and they would look at him," she said, laughing. "I didn't let it bother me. I just stood up straighter and talked louder."

Hoda Abou-Jamra is a founding partner of TVM Capital MENA, the regional healthcare private equity investment operation of TVM Capital. Her major responsibilities include the creation of the local operation, fundraising, investor relations, as well as business development for the newly formed company. TVM Capital is a global private equity and venture capital firm with a 25-year operating track record. TVM Capital MENA is currently raising its first Shariah-compliant healthcare fund, which invests in healthcare services and pharmaceutical deals in the MENA Region.

In addition to her career pursuits, Ms. Abou-Jamra has also served on several finance and fundraising committees, including Senator John Kerry's campaign finance committee and service as a board member for the Massachusetts Women's Political Caucus. She is also a member of the Academy of Managed Care Pharmacists, American Pharmaceutical Association, the Fenway Community Health Center and BIO Business Forum Committee and the International Subcommittee.

Hoda Abou-Jamra graduated from the Bouve College of Health Sciences, Northeastern University with a degree in Pharmacy. Her visit to the CMC campus is jointly sponsored by the Kravis Leadership Institute and the Athenaeum as part of the series, Shifting Perceptions.