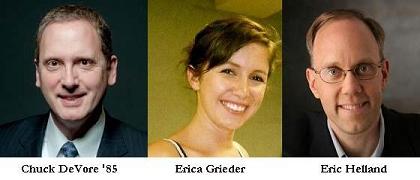 As Texas Goes…How California Lost Its Edge
ERICA GRIEDER
ERIC HELLAND
CHUCK DEVORE '85
TUESDAY, APRIL 3, 2012
Erica Grieder is the southwest correspondent for The Economist, based in Austin, Texas. She covers the key issues for Texas and the surrounding states, including politics and the economy, energy and the environment, and immigration and border security. Her work has also appeared in Foreign Policy, The Atlantic, The Spectator (UK) and the New York Daily News. She holds a bachelor's degree in philosophy from Columbia University and a master's degree in public affairs from The University of Texas at Austin.

Eric Helland is the Robert J. Lowe Professor of Economics, Robert Day School of Economics and Finance, CMC, and Senior Economist, Institute for Civil Justice, RAND Corporation, Santa Monica, CA. Helland holds a B.A. (1991) from the University of Missouri and an M.A (1992) and Ph.D. in Economics from Washington University in St. Louis (1995).

Chuck DeVore '85 is a Visiting Senior Scholar for Fiscal Policy at the Texas Public Policy Foundation. Prior to his recent move to Texas, he had lived in California for most of the past 36 years. DeVore served in the California State Assembly from 2004 to 2010, where he was Vice Chairman of the Committee on Revenue and Taxation. Before his election, he was an executive in the aerospace industry. DeVore is a lieutenant colonel of military intelligence in the U.S. Army (retired) Reserve. He also served as a Special Assistant for Foreign Affairs in the Reagan-era Pentagon.

A 2009 article in The Economist entitled "California v Texas: America's Future" argued that the Golden State's golden age is in its past. It contrasted California's declining economy and dysfunctional government with the Texas pro-growth, small government model. The article kicked off a lively and ongoing debate among journalists, politicians, political analysts, and academics. Erica Grieder, Eric Helland, and Chuck DeVore '85 continue that discussion by examining the Texas model and asking what lessons California can learn from it.