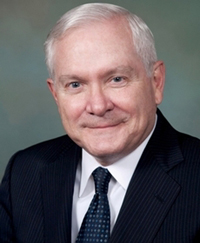 Remarks by Robert Gates
ROBERT GATES
WEDNESDAY, APRIL 4, 2012
Dr. Robert M. Gates served as the 22nd Secretary of Defense (2006-2011) and is the only Secretary of Defense in U.S. history to be asked to remain in that office by a newly-elected President. President Barack Obama is the eighth president Gates has served. He previously served under President George W. Bush. On Gates' last day in office, President Barack Obama awarded him the Presidential Medal of Freedom, America's highest civilian honor.

Before becoming Secretary of Defense in 2006, Gates was the president of Texas A&M University. Prior to assuming the Texas A&M presidency, on August 1, 2002, he served as interim dean of the George Bush School of Government and Public Service at Texas A&M from 1999 to 2001. He joined the Central Intelligence Agency in 1966 and spent nearly 27 years as an intelligence professional. Gates served as director of Central Intelligence from 1991 until 1993. He is the only career officer in CIA's history to rise from entry-level employee to director. He served as deputy director of Central Intelligence from 1986 until 1989 and as assistant to the President and Deputy National Security Adviser at the White House from January 20, 1989, until November 6, 1991, for President George H.W. Bush.

Gates has been awarded the National Security Medal, the Presidential Citizens Medal, has three times received the National Intelligence Distinguished Service Medal, and has three times received CIA's highest award, the Distinguished Intelligence Medal. He is the author of the memoir, From the Shadows: The Ultimate Insiders Story of Five Presidents and How They Won the Cold War.

The Pacesetters Fellowship Program is the culmination of the hard work and dedication of alumni from the College's first three graduating classes of 1948, 1949, and 1950 — the Pacesetters. This program attracts distinguished leaders in business, academia, and public affairs to Claremont McKenna College for one-on-one interactions with students. Gates is the thirteenth Pacesetters Fellow.