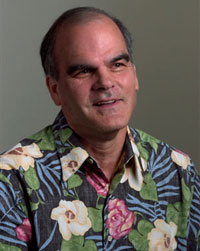 Mexico's Presidential Election, What it Means for the Future
RODERIC CAMP
THURSDAY, APRIL 5, 2012
In October 2009, Roderic Ai Camp, CMC's Philip M. McKenna Professor of the Pacfic Rim, was awarded a Doctor of Humane Letters by St. Olaf College in Northfield, Minnesota.

By recognizing him, we are reaffirming that a teacher at a liberal arts college can make a major contribution to an area of specialization, that a scholar devoted to interdisciplinary work can be recognized internationally for expertise developed over decades, and that a professor can both greatly value teaching and contribute significantly in the public sphere
-Leon Narvaez, professor of Spanish at St. Olaf

Camp is the author of more than 120 referred scholarly articles and essays and 29 books, including two novels and Politics in Mexico. His publications reflect an interdisciplinary body of work that covers Mexican intellectual life, religion and politics, civil-military relations, the private sector, public opinion, democratic values, socialization, elites and elite recruitment.

In addition to being a frequent media expert on issues of Mexico and Mexican politics, Camp has spoken to the incoming members of Mexico's Congress on the subject of democracy and has interviewed eight presidents of Mexico. The format of his biographical work on Mexican political leadership was used for the official directories of the Office of the Presidency of Mexico, and the official biographies of Mexican Supreme Court justices who have served from 1917-89 are based, in part, on Camp's work.

Among the Minnesota college's other reasons for honoring the CMC professor, Camp has briefed five of the last six U.S. ambassadors to Mexico for the U.S. Department of State, and has made presentations about topics related to Mexico at more than 100 non-governmental agencies, human rights organizations, governmental agencies, and universities in a number of countries, Narvaez says.

Camp began his teaching career as a professor at Central College of Iowa, then went on to Tulane University before joining the faculty at Claremont McKenna 1998.