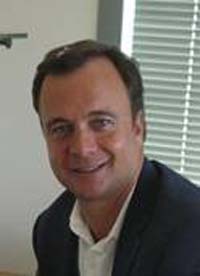 Lunch with a Leader: Sports Management
JAVIER LEON '88
FRIDAY, APRIL 6, 2012
LUNCHEON 11:30 p.m.; LECTURE 12:00 p.m.
Javier Leon is the Managing Director of Andell Sports Group, which oversees the sports and related assets for Andell Holdings. Mr. Leon manages the business and operations of the Chicago Fire, a Major League Soccer franchise, on behalf of owner Andrew Hauptman. He works closely with Fire President Julian Posada and the franchise's management team and staff to build and grow Andell's sports business, both in the local and international markets.

He is involved in strategic planning, marketing, as well as the development of Hispanic, community and public relations strategies and programs. Prior to joining Andell, Mr. Leon spent three years as the Chief Executive Officer for Chivas USA Enterprises in Los Angeles.

Before his work within the MLS, Mr. Leon spent 12 years in the investment banking world as a managing director for Merrill Lynch, Deutsche Bank and ING-Barings. He holds a bachelors degree from Claremont McKenna College and a Masters of International Management from the University of California at San Diego. Mr. Leon lives in Los Angeles with his wife and four children.

During his Athenaeum talk, Mr. Leon will discuss Major League Soccer, his career in sports management, and his development as a leader in this industry. His talk is co-sponsored by the Robert Day School of Economics and Finance and the Latin American Business Council at CMC.