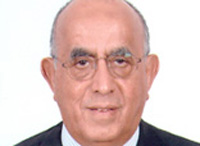 Honorary Degree Presentation and Remarks
ABDLATIF AL-HAMAD '60 P'89
TUESDAY, APRIL 24, 2012
LUNCHEON 11:30 a.m.; LECTURE 12:00 p.m.
Abdlatif Al-Hamad '60 P'89 has had a long and distinguished career, during which he held a number of senior governmental and non-governmental positions. Since 1985, Al-Hamad has been the Chairman of the Board of Directors and Director General of the Arab Fund for Economic and Social Development. The Arab Fund is an autonomous regional development finance organization, whose membership consists of all states who are members of the Arab League and seeks to assist member countries in eliminating development constraints, increasing absorptive capacity, and achieving higher rates of growth.

Previously, Al-Hamad was Kuwait's Minister of Finance and Planning from 1981-1983, during which time he chaired the World Bank and IMF Annual Meetings. During his years of service, Al-Hamad has earned a reputation for working tirelessly to promote economic and social development in the Arab World and in Asia and Africa. From 1972-1981, he was the Director General of the Kuwait Fund for Arab Economic Development, where he dedicated himself to mobilizing resources for development in Arab, Asian, and African countries.

Al-Hamad served on the CMC Board of Trustees from 1980-1987. He has also served on advisory boards of the University of Chicago, Princeton University, the American University of Beirut, and the Thailand Development Research Institute, among others board memberships. Al-Hamad is a member of the Higher Council of Education for the State of Kuwait, and he is a trustee and board member of several international development organizations. Al-Hamad was awarded an Honorary Doctorate Degree from the American University of Beirut (AUB) in 2009, and he delivered the Commencement remarks at AUB in 2002. He has also played a role on a number of United Nations commissions and advisory groups. Since 1995, Al-Hamad has been a Trustee of the International Institute for Strategic Studies, an independent think tank based in the UK, and the International Crisis Group. He is a member of the International Finance Corporation Advisory Group of the World Bank.

Abdlatif Al-Hamad graduated from CMC in 1960 with a B.A. in international affairs. He studied in the International Affairs Program at Harvard University's Graduate School of Arts and Sciences from 1960-1962.

This luncheon presentation is sponsored by the President's Leaders Forum. During the program, Al-Hamad will receive an Honorary Degree from Claremont McKenna College.