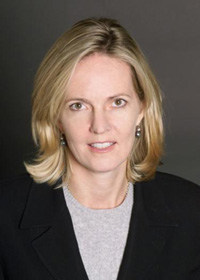 Lunch with a Leader: Investment Banking
LINNEA CONRAD ROBERTS
THURSDAY, APRIL 26, 2012
LUNCHEON 11:30 a.m.; PROGRAM 12:00 p.m.
Linnea Conrad Roberts is an advisory director for Goldman Sachs. She joined the firm as a partner in 2004 and served as co-head of technology within the Global Technology, Media and Telecom Group through 2011.

Prior to joining the firm, Roberts was co-head of Lehman Brothers' Global Technology Group from 2001 to 2004. Before joining Lehman Brothers in 1990, she was assistant controller of OroAmerica from 1987 to 1988 and a senior auditor for Price Waterhouse from 1984 to 1987.

Roberts serves on the Advisory Council of The University of Chicago Graduate School of Business, the Board of Directors of Valparaiso University, the Board of Trustees of the San Francisco Museum of Modern Art, and the Advisory Board of the New York City Ballet. She earned a B.S. in accounting and computer science from Valparaiso University in 1984 and an MBA from The University of Chicago.

This luncheon presentation is sponsored by the President's Leaders Forum and the Robert Day School Distinguished Speaker Series.