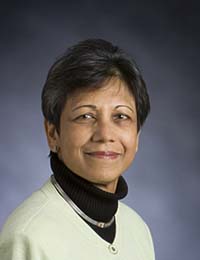 Transforming an American Industry
UMA CHOWDHRY
WEDNESDAY, APRIL 18, 2012
In the 20th century we witnessed major transformations in industry that created solutions resulting in a higher quality of life for people around the world. In today's flat, multi-polar world, we are experiencing unprecedented changes as the global population explodes and the expectations of a better life for an ever-growing middle class continue to rise. And as developing economies are on the rise, so are standards of living and investments into innovation. American corporations are responding to this rapid market growth responsibly against a backdrop of complex economic, social, and environmental challenges. These challenges, however, drive the need for industry transformation to be economically, socially, and environmentally beneficial across societies. In her talk, "Transforming an American Industry," Uma Chowdhry will provide examples of how innovation has allowed continual transformation in a system that was built to last.

Uma Chowdhry is Chief Science and Technology Officer Emeritus at DuPont. Dr. Chowdhry joined DuPont in 1977 as a research scientist in the Central Research and Development Department at the DuPont Experimental Station in Wilmington, Delaware. She went on to serve in management roles in the company, including Vice President. She was elected to the National Academy of Engineering in 1996, and to the American Academy of Arts and Sciences in 2003. In 2011, she was awarded both the Industrial Research Institute Medal for outstanding technical innovation for benefit to society, and the Earl B. Barnes National American Chemical Society award for chemical research management.

Born and raised in Mumbai, India, Dr. Chowdhry came to the United States in 1968 with a B.S. in Physics and Math from the Institute of Science, Mumbai University. She received an M.S. in Engineering Science in 1970 from the California Institute of Technology, and a Ph.D. in Materials Science and Engineering from the Massachusetts Institute of Technology in 1976.

Dr. Chowdrhy's Athenaeum lecture and discussion with students and faculty of the Keck Science Center is made possible through the generosity of the Jean Dreyfus Boissevain Lectureship for Undergraduate Institutions.