Athenaeum Location
Print Newsletter
September 13, 2012
Vol. 28, No. 01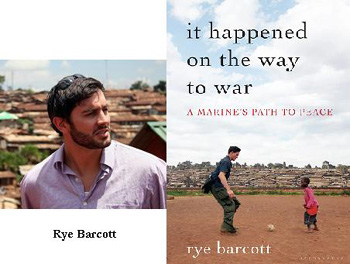 Welcome to the Class of 2016
It Happened on the Way to War
RYE BARCOTT
THURSDAY, SEPTEMBER 13, 2012
"You might not see 'leadership' in the title but that's what this book is all about. If you are interested in the next generation of leaders – whether from an African slum, a battlefield in Iraq, a corporate board room, or your own community – pick up this book. You'll be hooked after the first page."
–Adi Ignatius, Editor-in-Chief, Harvard Business Review

Rye Barcott co-founded the non-governmental organization Carolina for Kibera (CFK) to prevent violence and empower youth through participatory development while he was an undergraduate at the University of North Carolina at Chapel Hill. In 2000 he spent part of the summer living in ten-by-ten shacks in the Kibera slum of Nairobi, Kenya. After graduation, he served in the U.S. Marine Corps for five years in Iraq, Bosnia, and the Horn of Africa. He then earned masters' degrees in business and public administration from Harvard University, where he was a Reynolds Social Entrepreneurship Fellow.

A World Economic Forum Young Global Leader, Barcott lives in North Carolina with his wife and daughter and works at Duke Energy. It Happened on the Way to War: A Marine's Path to Peace (2011), is a true story of sacrifice and courage, failure and triumph, and the powerful melding of military and humanitarian service. It's a story of what America's role in the world could be.

Rye Barcott will sign books at the end of the evening, so please remember to bring your copy to the dinner. Also, everyone in the CMC class of 2016 is automatically signed up for this dinner. However, if you are unable to attend, please call ext. 18244 to cancel.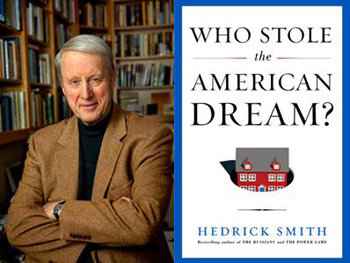 Who Stole the American Dream?
HEDRICK SMITH
MONDAY, SEPTEMBER 17, 2012
Hedrick Smith is a Pulitzer Prize-winning former New York Times reporter and editor, and Emmy award-winning producer/correspondent. Over the past 50 years he has established himself as one of America's most distinguished journalists.

Smith's career began in print journalism in the 1950s, with summer jobs as a cub reporter for The Greenville (S.C.) News. After graduating from Williams College, doing graduate work as a Fulbright Scholar at Oxford, serving three years in the U.S. Air Force, and joining three United Press International offices, he started at The New York Times in 1962.

During his 26-year tenure with The New York Times, Smith covered Martin Luther King, Jr. and the civil rights struggle, the Vietnam War in Saigon, the Middle East conflict from Cairo, the Cold War from both Moscow and Washington, and six American presidents and their administrations. Since 1989, Hedrick Smith has also created 26 prime-time specials and mini-series for PBS on such varied topics as terrorism, tax evasion, the environment, and jazz great Duke Ellington.

Smith's best-known work is his The Power Game: How Washington Works (1996). It details the game of politics and policy in Washington DC in the 1980s, and became required reading for freshman members of Congress and even President Bill Clinton.

His newest book, Who Stole the American Dream?, just recently published in September, has been hailed by critics for brilliant analysis of political and economic trends and changes in the U.S. over the past 30-40 years. It delves into the critical patterns of change in America's last four decades, focusing on everything from gaping income inequalities, the outsourcing of foreign IT workers – all from the perspective of powerful elites and heartland Middle Americans alike. Who Stole the American Dream? provides analytical insight that not only allows for discoveries of the past, but also promise for America's future.
Annual McKenna Seaver Scholars Dinner
An Insider's View of the Politics and Policy of Health Care Reform
ANDREW CHASIN '97
TUESDAY, SEPTEMBER 18, 2012
Each year, Claremont McKenna College recognizes former and current recipients of the Donald C. McKenna Achievement Award and the Frank Seaver Leadership Scholarship with a special dinner and program at the Marian Miner Cook Athenaeum. This year's keynote speaker is Andy Chasin, who graduated from Claremont McKenna College in 1997 with a B.A. degree in philosophy, politics, and economics. As a student at CMC, he was a recipient of the Donald C. McKenna Achievement Award, senior class president, and a member of the sailing club. During his junior year, Chasin studied abroad in Scotland. After graduating from Stanford Law School in 2002, Chasin was an associate at Baker & Hostetler, a major D.C. law firm. He has also worked in the Governor's office and in various statewide campaigns in his home state of Arizona.

Currently, Chasin is Associate General Counsel for Health Reform at Blue Shield of California. In this role, he focuses on implementation of federal health care reform. Chasin joined Blue Shield after working on health reform in the United States Senate, most recently as Health Policy Counsel for Senator John Thune on the Senate Republican Policy Committee. In his spare time, Chasin enjoys running in triathlons and keeping in touch with his CMC classmates as the class liaison for CMC magazine. He also serves as a member of the advisory board for the University of Michigan's Center for Value-Based Insurance Design, a think tank for research, development, and advocacy of innovative health benefit plans.

All CMC students, faculty, and staff are invited to sign-up for the dinner and program.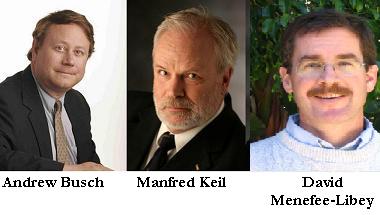 Presidential Election 2012: And the Winner is ...?
ANDREW BUSCH
MANFRED KEIL
DAVID MENEFEE-LIBEY
WEDNESDAY, SEPTEMBER 19, 2012
With the election two months away, both President Obama and Governor Romney are seen in a neck to neck race towards the finish line, with no clear winner in sight. The race seems to come down to the outcome in fewer than ten swing states. This evening's Round Table Discussion will feature CMC professors Andrew Busch (Government), Manfred Keil (RDS), and Jack Pitney (Government), each offering their own overview of the election forecast and the reasoning behind it. While the participants have not revealed their forecast in public, we can be assured that their views about the election outcome will be as diverse as the views of the electorate in current polls. Following their presentations, each professor will briefly comment on the strengths and shortcomings of the analysis of the other presenters. There will be time for Q&A immediately following the presentation.

Andy Busch: Although he led Mitt Romney in head-to-head polling averages throughout the summer, President Obama is in electoral trouble. His approval ratings remain mediocre, his chief legislative accomplishments are unpopular, and by a 2-1 ratio Americans say the country is going in the wrong direction. Barring unforeseen events, signs are pointing to either a Romney win or a narrow reelection for Obama.

Manfred Keil: Bad economic news during an election year is usually the death knell of any campaign. Obama's intrinsic popularity complemented by Romney's deficiencies as a candidate may overcome the negative economic influences for the upcoming election. The economy does not carry nearly as much weight as Republicans would hope.

Due to unforeseen circumstances, Professor Jack Pitney will not be able to participate in this Faculty Roundtable discussion. David Meneffee-Libey, professor of politics at Pomona College, has graciously agreed to step in. More information to follow.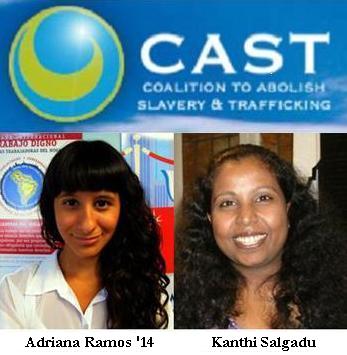 Hidden in Plain Sight: Personal Testimony of Human Trafficking, Rescue, and Redemption
ADRIANA RAMOS '14
KANTHI SALGADU
THURSDAY, SEPTEMBER 20, 2012
The mission of the Coalition to Abolish Slavery and Trafficking (CAST) is to assist persons trafficked for the purpose of forced labor and slavery-like practices and to work toward ending all instances of such human rights violations. Our activities are interconnected by a client-centered approach that seeks to empower survivors of trafficking to fully realize their individual potential while advancing the human rights of all trafficked survivors. CAST is providing the momentum for these survivors to plant the "seeds of renewal" that will give them the freedom to grow in the direction of their potential and dreams.

Adriana is pursuing a dual major in Human Biology and Government. She is interested in Health Policy and Public Policy as future career paths. She currently works at Claremont High School as an AVID tutor, has been a member of the cross country and track teams, and is involved in the Chicano Latino Students Association, the Gender Equity Task Force, and the Gates Millennium Scholars Organization at CMC. During the summer of 2012 Adriana was an intern with CAST in Los Angeles where she worked on outreach programs, trained to deliver "Human Trafficking 101" presentations, and interacted regularly with residents of CAST's survivor shelter.

Kanthi was born and raised in Sri Lanka. At the age of eighteen she was forced to travel to Los Angeles to work as a nanny and housekeeper for an abusive employer. Two years later, immigration officials rescued Kanthi and brought her to the Coalition to Abolish Slavery and Trafficking (CAST), a nonprofit organization dedicated to eradicating forced labor and slavery like practices. After receiving shelter, social and legal services, and ESL classes from CAST, Kanthi is now a Certified Nurse Assistant, and is attending college to achieve her RN. She is also an active member of the CAST's Survivor Advisory Caucus, a one of a kind leadership development program that provides survivors a platform to gain advocacy and leadership skills. Kanthi has helped raise awareness of trafficking through art projects and media interviews. In 2010, CAST helped Kanthi enroll in the Henry Hwang Playwriting Institute, where she was able to explore her inner storyteller to help advocate for increased awareness and protections for fellow survivors. In January 2011, a reading of her autobiographical play, "Letters from my Mother", was performed by East West Players, a community theater in Los Angeles. Kanthi is a regular speaker at the Museum of Tolerance, along with other members of the CAST Survivor Advisory Caucus.

Adriana and Kanthi are co-sponsored by the Center for Human Rights Leadership and the Marian Miner Cook Athenaeum at Claremont McKenna College.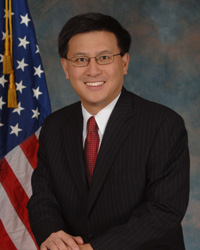 Leadership and Accountability for California
JOHN CHIANG
MONDAY, SEPTEMBER 24, 2012
LUNCHEON 11:30 a.m.; LECTURE 12:00 p.m.
John Chiang was first elected in November 2006 to serve as Controller of the State of California, the ninth-largest economy in the world. He was elected to serve a second term in November 2010. Controller Chiang has made significant progress in making the State's finances more transparent and accountable to the public and to weed out waste, fraud and abuse of public funds. His aggressive audits have identified more than $3 billion in taxpayer dollars that were denied, overpaid, subject to collection, or resulted in revenues, savings and cost avoidance.

As Controller during the worst economic downturn since the Great Depression, Chiang orchestrated ways to preserve cash to meet obligations to education and bond holders. His cash management was cited by rating agencies as a benefit to the State. Numerous ratings agencies have lauded Chiang's work.

He has led efforts to reform the State's public pension systems, helped local governments navigate difficult economic times, protected California's precious natural resources, reunited rightful owners with more than $2 billion in unclaimed cash and nearly 157 million shares of stocks and securities that had been lost or forgotten, and launched financial and tax assistance seminars for California's working families, seniors, small businesses and non-profit organizations. Controller Chiang has also received numerous awards for his leadership and public service.

John Chiang's visit to CMC is jointly sponsored by the Athenaeum and the Rose Institute of State and Local Government.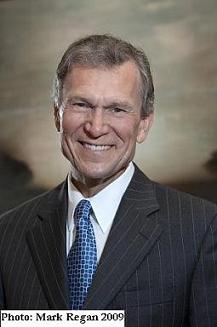 Getting It Done: What's Next for Health Care Reform?
TOM DASCHLE
MONDAY, SEPTEMBER 24, 2012
Senator Tom Daschle is one of this country's most respected political leaders. Hailing from South Dakota, he has worked on issues ranging from healthcare reform to poverty relief. Senator Daschle was first elected to the U.S. House of Representatives in 1978, where he served for eight years before being elected to the U.S. Senate in 1986. In this period, he served on the Veterans Affairs, Indian Affairs, Finance, and Ethics Committees, sponsoring the Medicare Prescription Drug Price Reduction Act of 2004 and the Jobs for America Act of 2004.

Senator Daschle is one of the longest serving Senate Democratic Leaders in history and the only one to serve twice as both Majority and Minority Leader. Daschle's twenty six-year legislative career has been characterized by a commitment to public service and, in contrast to today's Congress, a continuous effort to cross party lines.

In 2007, he joined former Majority Leaders George Mitchell, Bob Dole, and Howard Baker to form the Bipartisan Policy Center, an organization dedicated to finding common ground on some of the pressing policy issues of our time. Today, he works as a senior policy advisor to the law firm of DLA Piper where he provides clients with strategic advice on public policy issues such as climate change, energy, and health care. His most recent book, Getting it Done: How Obama and Congress Finally Broke the Stalemate to Make Way for Healthcare Reform, was published in 2010.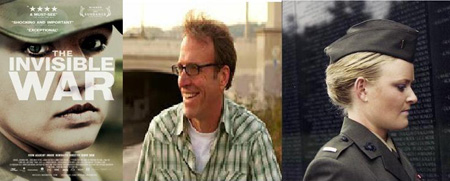 The Invisible War
KIRBY DICK
TUESDAY, SEPTEMBER 25, 2012
FILM SCREENING 6:00 p.m.
The Invisible War (2012) is a groundbreaking investigative documentary about one of America's most shameful and best kept secrets: the epidemic of rape within the U.S. military. The film paints a startling picture of the extent of the problem; today, a female soldier in combat zones is more likely to be raped by a fellow soldier than killed by enemy fire. The Department of Defense estimates there were a staggering 19,000 violent sex crimes in the military in 2010. The Invisible War exposes the epidemic, breaking open one of the most under-reported stories of our generation, to the nation and the world. This screening of The Invisible War is sponsored by the Center for Human Rights Leadership and the Marian Miner Cook Athenaeum at Claremont McKenna College. A Q&A session with the film's Director, Kirby Dick, will immediately follow the screening.

Kirby Dick is an Academy and Emmy Award nominated documentary director. His most recent film, Outrage (2009), which was nominated for an Emmy and released by Magnolia Pictures, is a searing indictment of the hypocrisy of powerful closeted politicians and the political and media institutions that protect them. In 2006 he directed This Film Is Not Yet Rated (2006), released by IFC Films. A breakthrough investigation of the highly secretive MPAA film ratings system, the film compelled the MPAA to make long overdue changes in the way it rates films.

Dick's prior film, Twist of Faith (2005), is the powerful story of a man confronting the trauma of his past sexual abuse by a Catholic priest. Produced for HBO, Twist of Faith received a 2004 Academy Award nomination for Best Documentary Feature. Dick's other films include, Derrida )2002), a complex portrait of the world-renowned French philosopher Jacques Derrida, which won the Golden Gate Award at the San Francisco Film Festival, and the internationally acclaimed Sick: The Life & Death of Bob Flanagan, Supermasochist (1997), which won the Special Jury Prize at the Sundance Film Festival and the Grand Prize at the Los Angeles Film Festival.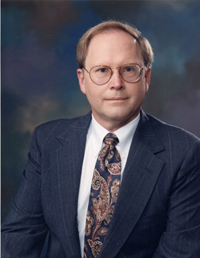 The Fight Over Medicare and Social Security: Aging Boomers, AARP and America's Future
FREDERICK R. LYNCH
WEDNESDAY, SEPTEMBER 26, 2012
By selecting Paul Ryan (R-Wisconsin) as his running mate, GOP Presidential candidate Mitt Romney catapulted Ryan's well-known Congressional reform agendas for Medicare and Social Security into the forefront of the 2012 elections—for the first time in history. Two of most unstudied, yet potentially powerful, actors in this political drama are AARP, the powerful yet largely unstudied 37-million member insurance giant/senior lobby, and 78 million members of the baby boom generation (born 1946-1964), many of whom are moving towards and retirement and old age without pensions or sufficient savings.

How are boomers and AARP responding politically to proposals to change these heretofore "untouchable" entitlements? Will anxious, aging boomers unite to become the long-slumbering, much-feared giant of "senior power"? Or will they remain fragmented by class, "culture wars" and other divisions? Can the allegedly non-partisan AARP win aging boomers' hearts, minds, and memberships by mounting a vigorous defense of Medicare and Social Security? Finally, what are the implications of this entitlement reform battle for the underlying inter-generational social contract and the nation's sense of E Pluribus Unum?

CMC sociologist Frederick R. Lynch will discuss these and other related issues based on research drawn from his book One Nation Under AARP: The Fight Over Medicare and Social Security and America's Future (2011) and his New York Times essay "How AARP Can Get Its Groove Back." Professor Lynch is the author of two other books, Invisible Victims: White Males and the Crisis of Affirmative Action (1991) and The Diversity Machine (1997; 2001 ) as well as dozens of professional and general audience articles and book chapters, most recently, "The Politics of Aging Boomers" (in Robert Hudson's The New Politics of Old Age Policy (2005)). He has been interviewed by most major newspapers and by ABC's "World News Tonight," CBS News' "48 Hours," "Donahue," "Oprah," CNN "Headline News," ABC "World News Tonight," "The Kudlow Report," National Public Radio and approximately 150 other radio interview programs. He has been profiled in Forbes Magazine, The Chicago Tribune and The Baltimore Sun and the journal Management Review.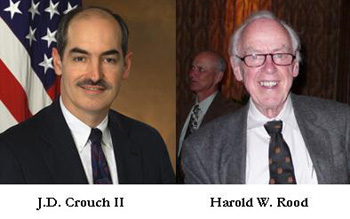 Nothing Happens For No Good Reason: The Scholarship and Teaching of Harold W. Rood
J.D. CROUCH II
THURSDAY, SEPTEMBER 27, 2012
LUNCHEON 11;30 a.m., LECTURE 12:00 p.m.
This is the inaugural lecture of the Harold W. Rood Memorial Lecture series, sponsored by the Salvatori Center and offered in honor of a great teacher, mentor, and friend of many Claremont McKenna College alumni, and many generations of students of history and international relations across the country. Professor Harold W. (Bill) Rood was an uncommon teacher, in both style and substance, who lived a thoroughly American life. He was born in Seattle, Washington, on August 19, 1922, and grew up at the Mare Island Naval Yard in California. He entered the Army Enlisted Reserve Corps in September 1942 (called to active duty in March 1943), and later served as a heavy machine gunner and a radio operator in Patton's Third Army, in the European Theater of Operations. He rose to the rank of private first class, and was proud of it.

After the war he obtained his B.A. in 1948, and then a Ph.D. in Political Science in 1960, from the University of California, Berkeley. His dissertation was on American preparations for war from 1918 to 1940. When the Korean War broke out, he became an order of battle specialist and then a strategic intelligence analyst in the Army Reserve. He served, too, on the staff and faculty of the Sixth Army Intelligence School, Fort Ord and Fort MacArthur, California (1958-1964, 1968-1974).

Dr. Rood was appointed to the Government Department faculty of Claremont Men's College in 1962. In due course he was promoted to associate and full professor, and in the early 1980s he was appointed to hold the first W.M. Keck Foundation Chair of International Strategic Studies. Professor Rood won multiple Outstanding Teacher Awards at CMC, and established himself as a favorite among the CMC undergrads while attracting a loyal following from then-Claremont Graduate School (now University). He is survived by his wife Juanita, and daughters Hilary and Elizabeth.

J.D. Crouch II is currently President of the Technology Solutions Group of QinetiQ North America. He assumed this role in November 2009 from the position of QinetiQ's Executive Vice President for Strategic Development.

Crouch was Assistant to the President and Deputy National Security Advisor until June 2007. He was a senior advisor to the President on national security matters, chaired the sub-cabinet Deputies Committee, and was second in command at the National Security Council. He also serves on several government advisory boards including the Defense Policy Board and the NSA Advisory Board. He has twice been awarded the Department of Defense Distinguished Public Service Medal. His other honors include the Alumni Merit Award from the University of Southern California in 2006 and the Military Merit Grand Cross with White Ribbon, from the Kingdom of Spain in 2003.

Dr. Crouch holds Ph.D., M.A., and B.A. degrees in International Relations from the University of Southern California and has written on a wide range of defense and foreign policy issues.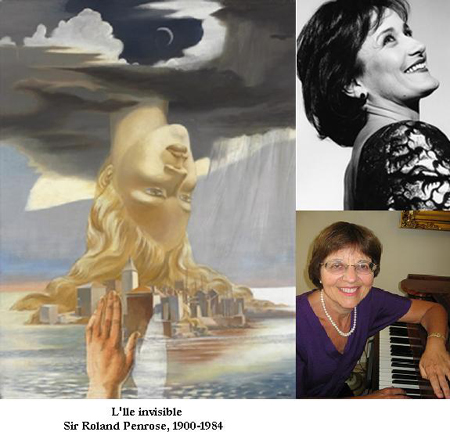 Olivier Messianen's Harawi: Chant d'amour et de mort (Song of Love and Death)
LUCY SHELTON, soprano
GAYLE BLANKENBURG, piano
THURSDAY, SEPTEMBER 27, 2012
Imagine an hour-long work for soprano and piano that incorporates all of the following: the Tristan and Isolde legend; a similar story of love-death from Peruvian folklore ("Harawi"); a French surrealistic text written by the composer, interspersed with pre-Columbian Quechan phrases and frequent passages of onomatopoeia; rhythms based on Greek and Hindu patterns; a recurring melody derived from Peruvian folk music; a rich and unique approach to harmony; musical imitations of nature, particularly of birdsong; and an overwhelming belief in God and resurrection. This is Olivier Messiaen's 1945 song cycle
Harawi
.
Messiaen does not give us a dramatic rendering of the story of Tristan and Isolde. He instead places us in a surrealistic dream world much inspired by the 1937 Sir Roland Penrose painting
L'lle invisible
. We progress from the lovers being incapable of taking their eyes off each other, to their falling in love, to their realization that they can only really be united via death, to the cataclysmic approach of their death, to the ecstasy of their full experience of love after death, and to the eternal finality of the death and their ultimate loss of self.
Olivier Messiaen (1908-1992) was one of the most unique and influential composers of the twentieth century. His mother was the poet Cécile Sauvage, and his father, Pierre Messiaen, was an English teacher, Shakespearian scholar, and translator. Olivier Messiaen studied at the Paris Conservatoire, and subsequently began to establish himself as an organist and as a composer. He enlisted in the army at the onset of World War II and spent time in a German prisoner-of-war camp (where he composed his famous
Quatuor pour la fin du Temps
(1941), which was premiered in the camp by himself and fellow prisoners). After his release he joined the faculty of the Paris Conservatoire. He also gave private composition classes (amongst his students were Pierre Boulez and Karlheinz Stockhausen) and ultimately cemented his career worldwide as one of the greatest modern composers.
Soprano
Lucy Shelton
is the only artist to receive the International Walter W. Naumburg Award twice, as a soloist and as a chamber musician, and has performed repertoire from Bach to Boulez in major recital, chamber and orchestral venues throughout the world. Highly acclaimed as an interpreter of new music, Shelton continues to bring new audiences into the sound world of new works, often composed for her. A native Californian, her musical training began early with the study of both piano and flute. After graduating from Pomona College she pursued singing at the New England Conservatory and at the Aspen Music School, where she studied with Jan de Gaetani. Lucy Shelton has taught at the Cleveland Institute of Music, the New England Conservatory and the Eastman School. She is currently on the faculty of the Tanglewood Music Center and coaches privately at her studio in New York City. She has recorded for Deutsche Grammophon, KOCH International, Bridge Records, Unicorn-Kanchana and Virgin Classics.
Gayle Blankenburg
has performed extensively to great critical acclaim as a solo pianist, chamber musician, and vocal accompanist. Among nearly a dozen award-winning CDs recorded for Southwest Chamber Music on Cambria Records are her performances of Elliott Carter's song cycle
Of Challenge and of Love
(2000)(with soprano Phyllis Bryn-Julson) and the Carlos Chavez
Invencion
(2003) for solo piano. Her recording of Schoenberg's
Pierrot Lunaire
(2008) with the LA-based ensemble "inauthentica" has received the highest critical acclaim from
Gramophone Mazazine, Opera News
, and
The American Record Guide
.
She has performed much of the standard chamber music repertoire with members of major orchestras across the country, including members of the Los Angeles Philharmonic and Los Angeles Chamber Orchestra, and is currently on the piano faculties of the Claremont Colleges, teaching at Pomona College, the Claremont Graduate University, and Scripps College, where she is a recent recipient of the Mary Wig Johnson Faculty Achievement Award, and where she is a member of the faculty ensemble
Trio Lykos
. In the fall of 2012 she will be making her fourth trip to China to perform and give master classes in piano and chamber music.
Ms. Blankenburg was a student of the distinguished pianists Menahem Pressler (of the Beaux Arts Trio) and Abbey Simon at Indiana University, where she received the Bachelor's and Master's degrees in piano performance, and where she was also awarded the coveted Performer's Certificate.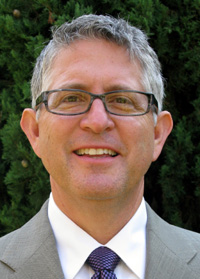 Lunch with An Entrepreneurial Leader
WAYNE SLAVITT '80
FRIDAY, SEPTEMBER 28, 2012
LUNCHEON 11:30 a.m.; LECTURE 12:00 p.m.
Over the past 33 years, Wayne Slavitt has worked with middle market, privately-held companies in both principal and advisor capacities. Wayne's extensive experience on both sides of the aisle ranges from executive positions as corporate controller, CFO, and CEO to advisory roles as an investment banker and specialized business consultant. For all of these roles, Wayne's focus has been to maximize business value.

With extensive experience in mergers and acquisitions early in his career, Wayne formed a boutique investment banking house The Slavitt Ellington Group (now Strategic Equity Group), serving the middle market, providing business valuation, merger and acquisition, and workout and turnaround services. In 1998, Wayne sold his interest in The Slavitt Ellington Group to his partners and pursued similar opportunities in the Inland Empire of Southern California. Over the next two years, Wayne sold six companies, including Sundance Spas to Jacuzzi Corporation, along with several other privately-held companies to publicly-traded firms, as part of various industry roll-ups.

Toward the end of 2000, Wayne began what would be a very exciting journey as a business owner with three different ventures, including the formation of an e-commerce platform for International E-Z UP®, Inc., the world's largest manufacturer of instant shelters, a real estate investment and management firm, and a successful patent portfolio that was recently sold. Today, Wayne is President and CEO of The PrimeMark Group, which works with growing companies to maximize business value.

Wayne, a magna cum laude 1980 graduate of Claremont McKenna College, served as President of the CMC Alumni Association and was Alumni-mentor for the Entrepreneurial Studies course at CMC. Wayne's Athenaeum talk is jointly sponsored by the Robert Day School of Economics and Finance and CMC's new Center for Innovation and Entrepreneurship. His presentation is one of several activities that will help launch the new Center on September 28th.
MARIAN MINER COOK ATHENAEUM
RECORDING POLICY
It is the policy of the Marian Miner Cook Athenaeum that no lecture, appearance or performance by any speaker or performer at the Athenaeum is to be videotaped, audiotaped, or otherwise recorded and/or broadcast without the prior written permission of the relevant speaker, performer, or other authorized owner of the intellectual property rights to the event.



Anyone requesting permission to record an event is required to submit an "Event Recording Request Form" to Bonnie Snortum, the Director of the Athenaeum, at least 48 hours in advance of the relevant event.



It is understood that the speaker, the performer, the Athenaeum, and any other event sponsor, as appropriate, reserve all intellectual property rights for each Athenaeum event.



If you have any questions regarding this policy, please contact Bonnie Snortum at bsnortum@cmc.edu or at (909) 607-4180.
ATHENAEUM ETIQUETTE
The Athenaeum serves as a gathering place where ideas, inquiry, and fellowship bring students, faculty, staff, other scholars, and nationally prominent speakers together.



Attendance at any event may be limited to persons associated with CMC, to the people who signed up for the dinner, or to the maximum number of people allowed by fire regulations.



On some occasions the speaker may address the group in another forum or the College may set up a video feed to handle an overflow crowd. All programs at the Athenaeum are filmed. Individuals attending should understand that their image might appear on the videotape.



House rules and common courtesy prohibit disruptive actions inside the building during an Athenaeum sponsored program.



Time allowing, there will be a period set aside for questions. Students will have priority during this portion of the program.



Guests are expected to dress appropriately in all dining rooms. Shorts, jeans, and t-shirts are not acceptable at dinner; more casual attire is acceptable for lunch and tea. No bare feet at any time.