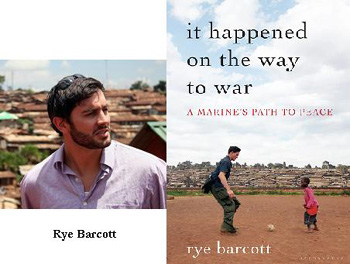 Welcome to the Class of 2016
It Happened on the Way to War
RYE BARCOTT
THURSDAY, SEPTEMBER 13, 2012
"You might not see 'leadership' in the title but that's what this book is all about. If you are interested in the next generation of leaders – whether from an African slum, a battlefield in Iraq, a corporate board room, or your own community – pick up this book. You'll be hooked after the first page."
–Adi Ignatius, Editor-in-Chief, Harvard Business Review

Rye Barcott co-founded the non-governmental organization Carolina for Kibera (CFK) to prevent violence and empower youth through participatory development while he was an undergraduate at the University of North Carolina at Chapel Hill. In 2000 he spent part of the summer living in ten-by-ten shacks in the Kibera slum of Nairobi, Kenya. After graduation, he served in the U.S. Marine Corps for five years in Iraq, Bosnia, and the Horn of Africa. He then earned masters' degrees in business and public administration from Harvard University, where he was a Reynolds Social Entrepreneurship Fellow.

A World Economic Forum Young Global Leader, Barcott lives in North Carolina with his wife and daughter and works at Duke Energy. It Happened on the Way to War: A Marine's Path to Peace (2011), is a true story of sacrifice and courage, failure and triumph, and the powerful melding of military and humanitarian service. It's a story of what America's role in the world could be.

Rye Barcott will sign books at the end of the evening, so please remember to bring your copy to the dinner. Also, everyone in the CMC class of 2016 is automatically signed up for this dinner. However, if you are unable to attend, please call ext. 18244 to cancel.