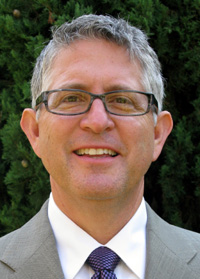 Lunch with An Entrepreneurial Leader
WAYNE SLAVITT '80
FRIDAY, SEPTEMBER 28, 2012
LUNCHEON 11:30 a.m.; LECTURE 12:00 p.m.
Over the past 33 years, Wayne Slavitt has worked with middle market, privately-held companies in both principal and advisor capacities. Wayne's extensive experience on both sides of the aisle ranges from executive positions as corporate controller, CFO, and CEO to advisory roles as an investment banker and specialized business consultant. For all of these roles, Wayne's focus has been to maximize business value.

With extensive experience in mergers and acquisitions early in his career, Wayne formed a boutique investment banking house The Slavitt Ellington Group (now Strategic Equity Group), serving the middle market, providing business valuation, merger and acquisition, and workout and turnaround services. In 1998, Wayne sold his interest in The Slavitt Ellington Group to his partners and pursued similar opportunities in the Inland Empire of Southern California. Over the next two years, Wayne sold six companies, including Sundance Spas to Jacuzzi Corporation, along with several other privately-held companies to publicly-traded firms, as part of various industry roll-ups.

Toward the end of 2000, Wayne began what would be a very exciting journey as a business owner with three different ventures, including the formation of an e-commerce platform for International E-Z UP®, Inc., the world's largest manufacturer of instant shelters, a real estate investment and management firm, and a successful patent portfolio that was recently sold. Today, Wayne is President and CEO of The PrimeMark Group, which works with growing companies to maximize business value.

Wayne, a magna cum laude 1980 graduate of Claremont McKenna College, served as President of the CMC Alumni Association and was Alumni-mentor for the Entrepreneurial Studies course at CMC. Wayne's Athenaeum talk is jointly sponsored by the Robert Day School of Economics and Finance and CMC's new Center for Innovation and Entrepreneurship. His presentation is one of several activities that will help launch the new Center on September 28th.