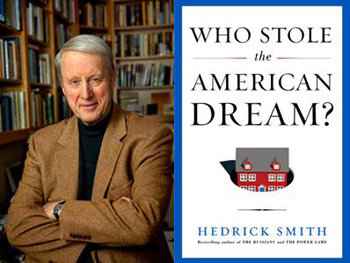 Who Stole the American Dream?
HEDRICK SMITH
MONDAY, SEPTEMBER 17, 2012
Hedrick Smith is a Pulitzer Prize-winning former New York Times reporter and editor, and Emmy award-winning producer/correspondent. Over the past 50 years he has established himself as one of America's most distinguished journalists.

Smith's career began in print journalism in the 1950s, with summer jobs as a cub reporter for The Greenville (S.C.) News. After graduating from Williams College, doing graduate work as a Fulbright Scholar at Oxford, serving three years in the U.S. Air Force, and joining three United Press International offices, he started at The New York Times in 1962.

During his 26-year tenure with The New York Times, Smith covered Martin Luther King, Jr. and the civil rights struggle, the Vietnam War in Saigon, the Middle East conflict from Cairo, the Cold War from both Moscow and Washington, and six American presidents and their administrations. Since 1989, Hedrick Smith has also created 26 prime-time specials and mini-series for PBS on such varied topics as terrorism, tax evasion, the environment, and jazz great Duke Ellington.

Smith's best-known work is his The Power Game: How Washington Works (1996). It details the game of politics and policy in Washington DC in the 1980s, and became required reading for freshman members of Congress and even President Bill Clinton.

His newest book, Who Stole the American Dream?, just recently published in September, has been hailed by critics for brilliant analysis of political and economic trends and changes in the U.S. over the past 30-40 years. It delves into the critical patterns of change in America's last four decades, focusing on everything from gaping income inequalities, the outsourcing of foreign IT workers – all from the perspective of powerful elites and heartland Middle Americans alike. Who Stole the American Dream? provides analytical insight that not only allows for discoveries of the past, but also promise for America's future.