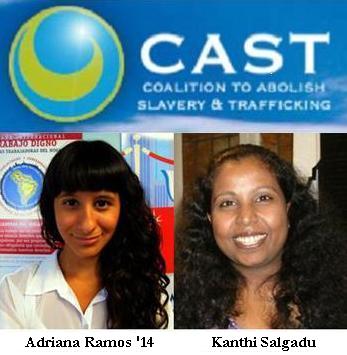 Hidden in Plain Sight: Personal Testimony of Human Trafficking, Rescue, and Redemption
ADRIANA RAMOS '14
KANTHI SALGADU
THURSDAY, SEPTEMBER 20, 2012
The mission of the Coalition to Abolish Slavery and Trafficking (CAST) is to assist persons trafficked for the purpose of forced labor and slavery-like practices and to work toward ending all instances of such human rights violations. Our activities are interconnected by a client-centered approach that seeks to empower survivors of trafficking to fully realize their individual potential while advancing the human rights of all trafficked survivors. CAST is providing the momentum for these survivors to plant the "seeds of renewal" that will give them the freedom to grow in the direction of their potential and dreams.

Adriana is pursuing a dual major in Human Biology and Government. She is interested in Health Policy and Public Policy as future career paths. She currently works at Claremont High School as an AVID tutor, has been a member of the cross country and track teams, and is involved in the Chicano Latino Students Association, the Gender Equity Task Force, and the Gates Millennium Scholars Organization at CMC. During the summer of 2012 Adriana was an intern with CAST in Los Angeles where she worked on outreach programs, trained to deliver "Human Trafficking 101" presentations, and interacted regularly with residents of CAST's survivor shelter.

Kanthi was born and raised in Sri Lanka. At the age of eighteen she was forced to travel to Los Angeles to work as a nanny and housekeeper for an abusive employer. Two years later, immigration officials rescued Kanthi and brought her to the Coalition to Abolish Slavery and Trafficking (CAST), a nonprofit organization dedicated to eradicating forced labor and slavery like practices. After receiving shelter, social and legal services, and ESL classes from CAST, Kanthi is now a Certified Nurse Assistant, and is attending college to achieve her RN. She is also an active member of the CAST's Survivor Advisory Caucus, a one of a kind leadership development program that provides survivors a platform to gain advocacy and leadership skills. Kanthi has helped raise awareness of trafficking through art projects and media interviews. In 2010, CAST helped Kanthi enroll in the Henry Hwang Playwriting Institute, where she was able to explore her inner storyteller to help advocate for increased awareness and protections for fellow survivors. In January 2011, a reading of her autobiographical play, "Letters from my Mother", was performed by East West Players, a community theater in Los Angeles. Kanthi is a regular speaker at the Museum of Tolerance, along with other members of the CAST Survivor Advisory Caucus.

Adriana and Kanthi are co-sponsored by the Center for Human Rights Leadership and the Marian Miner Cook Athenaeum at Claremont McKenna College.