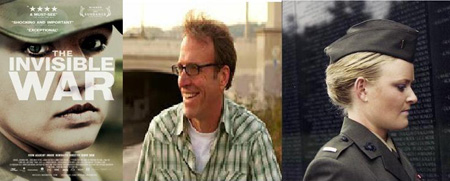 The Invisible War
KIRBY DICK
TUESDAY, SEPTEMBER 25, 2012
FILM SCREENING 6:00 p.m.
The Invisible War (2012) is a groundbreaking investigative documentary about one of America's most shameful and best kept secrets: the epidemic of rape within the U.S. military. The film paints a startling picture of the extent of the problem; today, a female soldier in combat zones is more likely to be raped by a fellow soldier than killed by enemy fire. The Department of Defense estimates there were a staggering 19,000 violent sex crimes in the military in 2010. The Invisible War exposes the epidemic, breaking open one of the most under-reported stories of our generation, to the nation and the world. This screening of The Invisible War is sponsored by the Center for Human Rights Leadership and the Marian Miner Cook Athenaeum at Claremont McKenna College. A Q&A session with the film's Director, Kirby Dick, will immediately follow the screening.

Kirby Dick is an Academy and Emmy Award nominated documentary director. His most recent film, Outrage (2009), which was nominated for an Emmy and released by Magnolia Pictures, is a searing indictment of the hypocrisy of powerful closeted politicians and the political and media institutions that protect them. In 2006 he directed This Film Is Not Yet Rated (2006), released by IFC Films. A breakthrough investigation of the highly secretive MPAA film ratings system, the film compelled the MPAA to make long overdue changes in the way it rates films.

Dick's prior film, Twist of Faith (2005), is the powerful story of a man confronting the trauma of his past sexual abuse by a Catholic priest. Produced for HBO, Twist of Faith received a 2004 Academy Award nomination for Best Documentary Feature. Dick's other films include, Derrida )2002), a complex portrait of the world-renowned French philosopher Jacques Derrida, which won the Golden Gate Award at the San Francisco Film Festival, and the internationally acclaimed Sick: The Life & Death of Bob Flanagan, Supermasochist (1997), which won the Special Jury Prize at the Sundance Film Festival and the Grand Prize at the Los Angeles Film Festival.