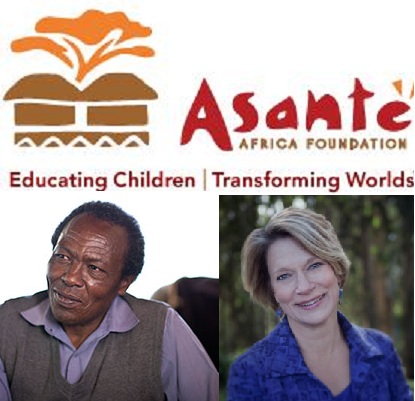 From Kenya to America: Leadership Without Borders - Think Globally, Lead Locally
CHARLES WAIGI
ERNA GRASZ
TYLER MCBRIEN '14
WEDNESDAY, OCTOBER 10, 2012
LUNCHEON 11:30 a.m.; LECTURE 12:00 p.m.
What do a Kenyan tribal elder and former government official and a woman engineer from the corporate world of high tech have in common? – A talent for leadership and a passionate belief that education feeds solutions to all the world's problems.

Meet Charles Waigi, Kenyan dignitary respected globally for his work in advancing education and economic development for his country, and Erna Grasz, Silicon Valley Senior Executive and electrical engineer. They now work together leading Asante Africa Foundation, a non-profit organization focused on leveraging the power of knowledge as a catalyst to help young people create a future where they can live their potential.

These two leaders from vastly different worlds, united by a common purpose, have learned that the keys to successful leadership are more similar than different across the globe, across borders and across cultures. Enjoy their stories, be inspired by their work, and discover how to apply their wisdom to your own work.

Raised and educated in a rural village in Kenya, Charles Waigi studied at Kenya's competitive Mangu High School where during his sophomore year he wrote an essay that earned him a trip to America as Kenya's delegate to the World Youth Forum sponsored by the New York Herald Tribune. This invaluable experience opened his eyes to what lay beyond Kenya's borders and ignited a hunger to see more and do more. Charles returned to America to complete his last year of high school at the Lincoln-Sudbury Regional High near Boston, Massachusetts and went on to receive his Undergraduate degree with Honors in Political Science at Williams College, and a graduate degree in Public and International Affairs at Princeton University.

Charles returned to Kenya and served on the global stage as well as the local one. He began as an Assistant Secretary in the Trade and Economic Division of Kenya's Ministry of Foreign Affairs followed by a long and respected career in the Kenyan Public Service. Charles traveled the world serving on Kenyan delegations to many international conferences and working to enhance Kenya's voice in international economic affairs to propel the country into the international marketplace. After the Ministry of Foreign Affairs, Charles served briefly in the Central Bank of Kenya before moving to Kenya's Industrial and Commercial Development Corporation (ICDC) where he spent 24 fruitful years fostering local economic development via start-up loans for small business owners and joint ventures with large local and international corporations.

Erna Grasz has led organizations, teams and individuals to success in fast paced, high stress, and results orientated environments for over 25 years. She has an established reputation as a strategic leader with demonstrated success in diverse industries, including Medical Device, Defense Research, and Semiconductor Capital Equipment. She has exercised her skills in full management for business functions including: general management; research and product development; business development; operations; sales; and marketing. She has led teams as large as 400 people and as small as 3 people. Most recently, she has transitioned her leadership skills from being a Chief Technology Officer in the Medical Device Market to the Non- Profit world as the CEO of Asante Africa Foundation. She is known as an organizer of chaos and a "turn-around" leader. Other Formal Leadership Roles include: General Manager at Philips Healthcare, San Jose Campus / Vice President of R&D for Tyco Healthcare, Nellcor, Mallinckrodt Division/General Manager, KLA-Tencor/Program Manager, Lawrence Livermore National Laboratory.

Erna is an award-winning speaker with Toastmasters International. She has published numerous articles on leadership, communication skills and project management. She is a certified leadership trainer and career coach with a specific focus on youth, and early and mid- career professions. Her advanced degrees are in Electrical Engineering and Engineering Management from Texas Tech University and Santa Clara University. She also has several executive Leadership and Management Training certificates from Stanford, MIT Sloan, and UCLA.