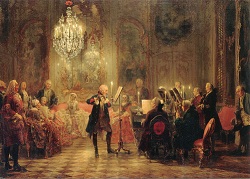 Bach's "Musical Offering" for the Court of Frederick the Great: Selections from the Musical Offering, and Works by the King, C.P.E. Bach, and J.J. Quantz
CON GIOIA EARLY MUSIC ENSEMBLE
PREETHI DE SILVA, fortepiano; director
STEPHEN SCHULTZ, baroque flute
SHANNON ZUSMAN, viola da gamba
M. ANNE RARDIN, baroque violin
TUESDAY, OCTOBER 16, 2012
Perhaps the most significant encounter between a monarch and a musician, which was recorded in a major city's newspaper (the Berlinerische Nachrichten of 11 May, 1747) and in newspapers in other German cities, is that between Frederick the Great (1712–86) and Johann Sebastian Bach (1685–1750), which occurred on 7 and 8 May, 1747. Bach's unexpected arrival in Potsdam (on the outskirts of the Prussian capital of Berlin), was announced to the king when the latter was preparing for an evening performance in the City Palace. King Frederick immediately welcomed him, announcing to those assembled: "Gentlemen, old Bach has arrived." Going over to the fortepiano, he then played a musical theme, requesting Bach to improvise a fugue with six voices. Bach improvised one with three voices, preferring to invent a suitable theme himself for the more complex fugue scored for six voices.

Thus was sown the seed for the composition of the great multi-movement work, the Musical Offering (Musikalisches Opfer), BWV 1079, based on the "royal theme." Bach completed the work soon after returning home to Leipzig and commissioned it to be engraved with a dedication to Frederick II.

Con Gioia's concert presents selections from A Musical Offering, in a rare performance with fortepiano; a sonata for flute by the musically talented King Frederic II; and chamber music and solos by composers active at his court. The concert also commemorates the tercentenary of Frederic II.

Founded in 1982, Con Gioia Early Music Ensemble is based in Claremont and has performed widely through the U.S. Con Gioia, performing on period instruments and directed by Preethi de Silva from the fortepiano (the favored keyboard instrument at Frederick the Great's court), will feature acclaimed baroque flutist Stephen Schultz, with Anne Rardin on baroque violin and Shanon Zusman on viola da gamba.

Guest artist Stephen Schultz, is solo and Principal flutist with the Philharmonia Baroque Orchestra and Musica Angelica. A graduate of the Royal Conservatory of Music in Holland, has been recognized by the San Jose Mercury News as a musician who is "among the most flawless artists on the baroque flute."

Preethi de Silva has been acclaimed by London's Daily Telegraph as "an artist of great accomplishment and originality" and is an internationally known soloist and recording artist and emerita Professor of Music of Scripps College.

Known for their stylistically refined performances, M. Anne Rardin and Shanon Zusman can be heard regularly in concerts by local early music ensembles, including Musica Angelica. Rardin teaches baroque violin and the Collegium Musicum at Claremont Graduate University. Zusman specializes in instrumental music of the sixteenth and seventeenth centuries and is currently an adjunct faculty member at Claremont Graduate University, Santa Monica College, and College of the Canyons.