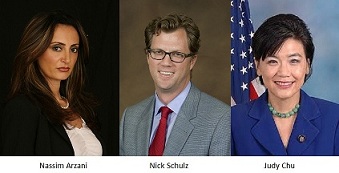 The DREAM Act: Perspectives on its Social and Economic Impact
NICK SCHULZ
JUDY CHU
NASSIM ARZANI
WEDNESDAY, OCTOBER 17, 2012
LUNCHEON 11:30 a.m.; LECTURE 12:00 p.m.
The California DREAM Act (Development, Relief, and Education for Alien Minors Act), signed into law in October 2011, will go into effect at the beginning of next year. The legislation provides access to state financial aid for unauthorized migrant youth. Similar immigration reform legislation has been introduced in many forms on the federal and state levels since 2001 but has rarely succeeded.

Proponents of California's version of the DREAM Act legislation maintain that it will have a positive effect on the economy by investing in the skill of our future workforce. Opponents argue that the legislation rewards and encourages illegal immigration and places an undue burden on the state. They contend that it is unfair to legal immigrant parents who have to pay full tuition. Others fear that it will encourage rampant fraud and growth in undocumented immigration, citing the 1986 Immigration Reform and Control Act as a historical example.

Join us as an elected representative, a Forbes columnist, and an immigration lawyer participate in a panel discussion about the DREAM Act and its implications for the economy, California, and the country.

Nassim Arzani received a Bachelor of Arts in Accounting from California State University Fullerton. She later received a Masters in Business Administration with an emphasis in Organizational Management. She attended law school at Trinity International University as well as Tulane University Law School, where she graduated in the top 5% of her class. During her second year of law school, she served as a Judicial Extern for the Honorable Judge James Bar of the United States Bankruptcy Court. She further advanced her legal career by studying abroad in Paris and obtaining a Paris Institute Certificate in European Legal Studies from Sorbonne. Among her distinguished memberships are: the California Bar Association, the Riverside Bar Association, the San Bernardino Bar Association and the Los Angeles Bar Association.

Nick Schulz is the DeWitt Wallace Fellow at AEI and editor-in-chief of American.com, AEI's online magazine focusing on business, economics, and public affairs. He writes the "Economics 2.0" column for Forbes.com where he analyzes technology, innovation, entrepreneurship, and economic growth. He is the co-author with Arnold Kling of From Poverty to Prosperity: Intangible Assets, Hidden Liabilities, and the Lasting Triumph Over Scarcity (2009). He has been published widely in newspapers and magazines around the country, including the Washington Post, the Wall Street Journal, the Los Angeles Times, USA Today, and Slate.