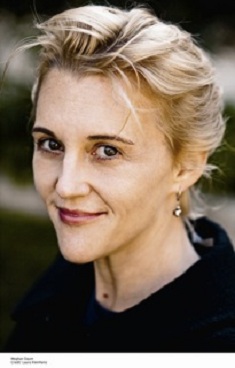 Making Art in the Age of Rage: Does Online Hate Threaten the Creative Process?
MEGHAN DAUM
FRIDAY, OCTOBER 26, 2012
LUNCHEON 11:30 a.m.; LECTURE 12:00 p.m.
Equal parts reporter, storyteller, and satirist, Meghan Daum has inspired controversy over a range of topics, including social politics, class warfare, and the semiotics of shag carpet. Meghan's work is included in dozens of college textbooks and anthologies, including The KGB Bar Reader (1998), Bookmark Now: Writing in Unreaderly Times, and The New Gilded Age: The New Yorker Looks at the Culture of Affluence (2001).

Meghan Daum is the author of Life Would Be Perfect If I Lived In That House (2010), a personal chronicle of real estate addiction and obsessive fascination with houses, as well as the novel The Quality Life Report (2003) and the essay collection My Misspent Youth (2010). Since 2005 she has written a weekly column for the Los Angeles Times, which appears on the op-ed page every Thursday. She has contributed to public radio's Morning Edition, Marketplace and This American Life and has written for numerous publications, including The New Yorker, Harper's, GQ, Vogue, Self, New York, Travel & Leisure, BlackBook, Harper's Bazaar, The Village Voice, and The New York Times Book Review.

A graduate of Vassar College and the MFA writing program at Columbia University's School of the Arts, Meghan has taught at several institutions, including California Institute for the Arts, where she was a visiting artist in 2004 and taught graduate nonfiction writing. She lives in Los Angeles with her husband, Alan Zarembo, and their sheepdog, Rex.

Meghan Daum's Athenaeum talk is sponsored by the Center for Writing and Public Discourse and the Academic Mentor Program, with funding from the Mellon Foundation.