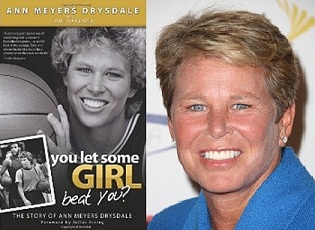 CELEBRATING THE 40TH ANNIVERSARY OF TITLE IX
You Let Some GIRL Beat You?
ANN MEYERS DRYSDALE
THURSDAY, NOVEMBER 8, 2012
Ann Meyers Drysdale has always been a standout player. She became the first player to be part of the US national team while still in high school. She matriculated to UCLA, making her the first female athlete to receive a Division I scholarship and one of the first beneficiaries of Title IX. A four-time all-American, her No. 15 basketball jersey was one of the first four retired by UCLA. She was the 1978 Broderick Award Winner, recognizing the best collegiate player in the U.S.

She took the first ever US Women's Basketball Team to the Olympic Games in 1976 and helped them bring home a Silver Medal. In 1980 she became the only woman ever to sign a free-agent contract with an NBA franchise, participating in three-day tryouts with the Indiana Pacers. She became a color analyst for the Pacers, making her the first woman to do game analysis for the team.

Drysdale was the first player drafted by the Women's Professional Basketball League (WPBL) in 1978 to the New Jersey Gems. Playing for the Gems, she was the WPBL Co-MVP for the 1979–1980. She entered the inaugural Women Superstars competition in 1979, finishing fourth, but then went on to win the next three consecutive years: 1980, 1981, and 1982.

She has been inducted into the International Women's Sports Hall of Fame, the Naismith Memorial Basketball Hall of Fame, and the Women's Basketball Hall of Fame. She is one of only three United States citizens honored in the FIBA Hall of Fame. In 2001, Meyers was honored as a Wooden All-Time All-American by the Wooden Award. In 2003, she was a NCAA Silver Anniversary Awards recipient.

She served as a sports analyst for ESPN, CBS, and NBC for 26 years and has been the women's basketball analyst at the Summer Olympics since the NBC's coverage of the 2000 Sydney Olympics.

Today Drysdale continues to break through barriers. She currently works with the Phoenix Suns as the only female vice president in the NBA, and as president of the WNBA's Phoenix Mercury, which has won two WNBA Championships since she took over four years ago. Her memoir, You Let Some GIRL Beat You? was published this year.

Ann Meyers Drysdale's campus visit is generously supported by CMS Athletics, the Kravis Leadership Institute, the Robert Day School of Economics and Finance, the Berger Institute for Work, Family and Children, the Center for Human Rights Leadership, and the Athenaeum.