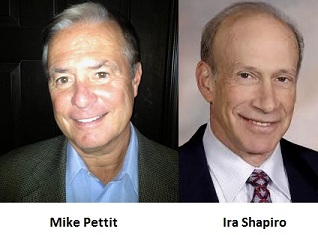 U.S. Political Dysfunction: Will the Elections Change It?
MIKE PETTIT
IRA SHAPIRO
MONDAY, OCTOBER 29, 2012
LUNCHEON 11:30 a.m.; LECTURE 12:00 p.m.
In the continuing Athenaeum series of special pre-election programs, you are welcome to join us in a conversation between Ira Shapiro, former staff member to Democratic Senators and author of The Last Great Senate: Courage and Statesmanship in Times of Crisis (2012) and Mike Pettit, former Administrative Assistant/Chief of Staff to Senator Bob Dole.

Ambassador Ira Shapiro is an international trade lawyer who served as a staff member in the U.S. Senate and the Clinton White House. While in the Senate, Ambassador Shapiro served as Staff Director and Chief Counsel to the Senate Committee on Official Conduct, Counsel to the Majority Leader, Minority Staff Director and Chief Counsel to the Governmental Affairs Committee.

During the Clinton administration, Ambassador Shapiro served as General Counsel to the Office of the U.S. Trade Representative (USTR), and helped complete the North American Free Trade Agreement (NAFTA) and the Uruguay Round, the global trade agreement that created the World Trade Organization and established today's global trade rules. After his departure from government, Ambassador Shapiro played a key role in the successful negotiation of the Framework Convention on Tobacco Control, the first global health treaty done under the auspices of the World Health Organization.

Mike Pettit served as Administrative Assistant and Chief of Staff to U.S. Senator Bob Dole from 1981-1987, and was responsible for legislative and policy initiatives in all subject areas, as well as including developing and drafting legislation, writing speeches, and assisting Senator Dole during debate on the floor of the U.S. Senate.

Pettit played critically important roles in Senator Dole's two presidential campaigns, serving as a senior adviser to the candidate in 1987-1988 and, during the 1995-1996 campaign he assisted in preparation of policy papers, speeches, media strategies and debate preparation. Mr. Pettit established and supervised Senator Dole's Campaign Policy Group on Technology and Innovation and sought advice for the candidate from more than 50 academicians, engineers, lawyers, and public policy specialists in fields such as biotechnology, information technology, telecommunications, intellectual property, federal research and development and technology transfer policies.

Since leaving politics, Mr. Pettit has held senior executive positions in and founded a number of high-tech startups in fields ranging from industry trade groups, pharmaceuticals, and telecommunications.