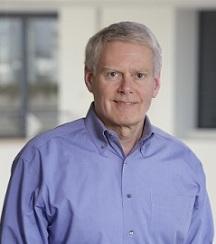 Lunch with a Leader
JAY FLATLEY '74 P'03
TUESDAY, OCTOBER 30, 2012
LUNCHEON 11:30 a.m.; LECTURE 12:00 p.m.
Jay Flatley '74 P'03 was appointed president and C.E.O. of Illumina, Inc. in 1999, and he has taken the company from $1.3 million in sales in 2000 to more than $900 million in 2010. Illumina is a leading provider of integrated solutions that advance the understanding of genetics and health, including disease research and drug development.

Under Flatley's leadership, Illumina has been named multiple times to the Deloitte & Touche "Fast 50" and "Fast 500" lists, as well as to Forbes "25 Fastest-Growing Tech Companies" (2007, 2009 and 2010) and the Fortune 100 "Fastest-Growing Companies" (2010) lists. In 2006, he oversaw the Company's expansion into the whole genome sequencing area with the acquisition of Solexa, and more recently, the expansion into diagnostics and consumer sequencing.

Previously, Flatley served as president and chief executive officer of Molecular Dynamics, later acquired by Amersham Pharmacia Biotech and now a part of GE Healthcare. As a co-founder and member of the board of directors for Molecular Dynamics, he led the company to its initial public offering in 1993. While there, he also helped Molecular Dynamics develop and launch more than 15 major instrumentation systems, including the first capillary-based DNA sequencer.

Flatley received a B.A. in economics from Claremont McKenna College and a B.S. and M.S. (summa cum laude) in industrial engineering from Stanford University. Currently, he is a trustee of the Keck Graduate Institute of Applied Life Sciences, which is a member of The Claremont Colleges.

This luncheon is co-sponsored by the President's Leaders Forum and the Robert Day School of Economics and Finance's Distinguished Speaker Series.