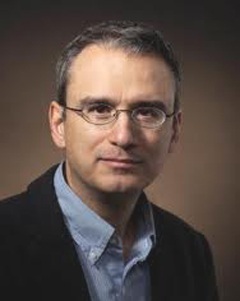 A Jane Austen Education
WILLIAM DERESIEWICZ
TUESDAY, OCTOBER 30, 2012
Bill Deresiewicz is the author of A Jane Austen Education: How Six Novels Taught Me about Love, Friendship, and the Things That Really Matter (2011). He is a contributing writer for The Nation and a contributing editor for The New Republic and The American Scholar, for which he writes the weekly All Points blog on culture and society.

Before becoming a full-time writer, Deresiewicz was an English professor at Yale from 1998-2008, where he taught courses in modern British fiction, the Great Books, Indian fiction, and writing. He is the author of Jane Austen and the Romantic Poets (2004) and of academic articles on George Eliot, Thomas Hardy, and Joseph Conrad. He received his Ph.D. from Columbia University.

Deresiewicz was nominated for National Magazine Awards in 2008, 2009, and 2011 and the National Book Critics Circle's Nona Balakian Citation for Excellence in Reviewing in 2010, 2011, and 2012. David Brooks gave one of his essays a "Sydney" award for magazine writing in 2010. His work, which has been translated into 14 languages, has been anthologized in Best American Nonrequired Reading 2011, The Digital Divide: Writings For and Against Facebook, YouTube, Texting, and the Age of Social Networking (2011), and about 19 college readers.

His essays and reviews have also appeared in The New York Times, Slate, Bookforum, The Chronicle of Higher Education, and The London Review of Books. His current book project is Excellent Sheep: Thinking for Yourself, Inventing Your Life, and Other Things the Ivy League Won't Teach You, which will be published in 2014.

William Deresiewicz's visit to CMC is jointly sponsored by the Center for Writing and Public Discourse, the Andrew W. Mellon foundation, the CMC department of literature, the Kravis Leadership Institute, and the Athenaeum.