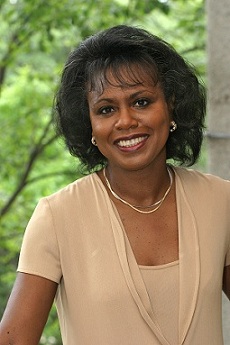 Reimagining Equality
ANITA HILL
WEDNESDAY, OCTOBER 31, 2012
Anita Hill became a national figure in 1991 during the confirmation hearings of U.S. Supreme Court nominee Clarence Thomas. Thomas's confirmation seemed assured until a report of a private interview of Hill by the FBI leaked out to the press. Hill was called to publicly testify and publicly recount how Thomas had made harassing sexual statements when he was her supervisor at the U.S. Department of Education and the Equal Employment Opportunity Commission.

Public interest in Hill's testimony prompted modern public awareness and open discussion of sexual harassment in the workplace. Shortly after the hearings, President George H. W. Bush dropped his opposition to a bill giving harassment victims the right to seek federal damage awards, back pay and reinstatement, and the law was passed by Congress. One year later, private companies had started training programs to deter sexual harassment.

As D.C. Congressional Delegate Eleanor Holmes Norton remarked, before the Clarence Thomas hearings, "Sexual harassment was something women didn't even want to speak about." Norton notes that Hill's testimony contributed to the large number of women elected to Congress in 1992, saying "women clearly went to the polls with the notion in mind that you had to have more women in Congress."

Hill's first book Speaking Truth to Power (1998) dealt with her experience during these hearings. She accepted a position as a visiting scholar at the Institute for the Study of Social Change at U.C. Berkeley in 1997, but soon joined the faculty of Brandeis University.

Over the years, Hill has provided commentary on gender and race issues. In 2005 Hill was selected as a Fletcher Foundation Fellow. She was awarded the Louis P. and Evelyn Smith First Amendment Award Ford Hall Forum in 2008.

Today, Professor Hill is Senior Advisor to the Provost and Professor of Social Policy, Law, and Women's Studies at Brandeis University's Heller School for Social Policy and Management. In 2011, she also took a counsel position with the Civil Rights & Employment Practice group of the plaintiffs' law firm Cohen Milstein Sellers & Toll.

Her latest book, Reimagining Equality: Stories of Gender, Race, and Finding Home (2011) focuses on the sub-prime lending crisis, the resulting "crisis of home" and exposes its deep roots in race and gender inequities, which continue to imperil every American's ability to achieve the American Dream.

Anita Hill's visit to CMC is jointly sponsored by the Kravis Leadership Institute, the Berger Institute for Work, Family and Children, the Robert Day School of Economics and Finance, the Center for Writing and Public Discourse, the Andrew W. Mellon foundation, and the Athenaeum.