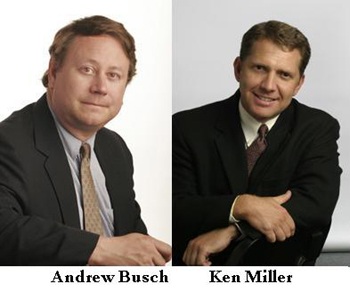 Election Night Commentary
ANDREW BUSCH
KEN MILLER
TUESDAY, NOVEMBER 6, 2012
This election has been called the most important election of our lifetimes. November 6th is election night. Based on simple logic, November 6th will be the most important night in your life.

Come to the Ath to experience the 2012 Election as only CMC can. November 6th will be a night to don your blues and reds, and enjoy a night of lofty political discourse characterized by respect, dignity, and bipartisanship. Just kidding… where are we, Pomona? If you're looking for a night of heckle-filled, biased, and partisan fun, join us at the Ath as we watch history unfold on the big screen.

Commentary from Professors Busch and Miller (and probably from your opinionated friends too) will accompany a live video stream displaying results from the Presidential election as well as congressional and other important races.

Election Night at the Ath is not a night to miss. This year's election night shenanigans will feature a feast of Americana and Patriotism. Chef Dave will be whipping up an All American menu, and some good old apple pie for everyone.

Andrew E. Busch is professor of government and Associate Dean of the Faculty at Claremont McKenna College. He has authored or co-authored ten books on American government and politics, including Epic Journey: The 2008 Elections and American Politics (with James W. Ceaser and John J. Pitney) (2009) and The Constitution on the Campaign Trail: The Surprising Political Career of America's Founding Document (2007). Professor Busch received his B.A. from the University of Colorado and his M.A. and Ph.D. from the University of Virginia.

Ken Miller is an associate professor of government at Claremont McKenna College. Professor Miller received his B.A.from Pomona College and his JD from Harvard Law School. He practiced law at Morrison & Forester, LLP before receiving his Ph.D. from the University of California, Berkeley. He also authored a book entitled Direct Democracy and the Courts (2009). His other publications include "Constraining Populism: The Real Agenda of Initiative Reform" (2001), "The Davis Recall and the Courts" (2004) and The New Political Geography of California (2008). Miller has served recently as a regular commentator on the presidential election for BBC World Service Radio. He has also provided political commentary for NPR, CBC, Financial Times, Los Angeles Times, and the San Francisco Chronicle.