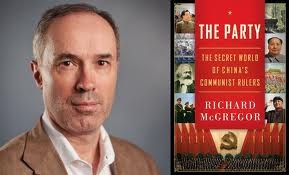 Reporting on American Democracy and Chinese Autocracy in the 21st Century
RICHARD MCGREGOR
MONDAY, NOVEMBER 12, 2012
Richard McGregor is Washington Bureau Chief for the Financial Times, leading the newspaper's coverage of American politics and managing its DC-based team of reporters.

Previously, McGregor served as the FT's deputy news editor in London, as well as Beijing bureau chief and Shanghai correspondent. Prior to joining the FT, he was the chief political correspondent and China correspondent for The Australian. He has also reported for the International Herald Tribune, the BBC and the Far Eastern Economic Review.

McGregor has won numerous awards throughout his nearly two decades of reporting from north Asia, including a 2010 Society of Publishers in Asia Editorial Excellence Award (Excellence in Reporting Breaking News category) for his coverage on the Xinjiang Riots and 2008 SOPA Awards for Editorial Intelligence (Excellence in Opinion Writing and Excellence in Feature Writing categories). He is author of The Party: The Secret World of China's Communist Rulers (2010), described by The Economist as a "masterful depiction" of the Chinese political system. The Party was awarded the third annual Bernard Schwartz Prize by the Asia Society in New York in 2011 for nonfiction books making an outstanding contribution to understanding Asia.

Richard McGregor's visit to CMC is sponsored by the Keck Center for International and Strategic Studies.