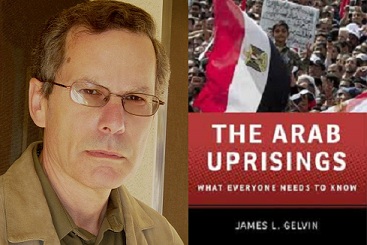 The Arab Uprisings
JAMES GELVIN
WEDNESDAY, NOVEMBER 14, 2012
The upheavals in the Arab world have captured everyone's attention since they began in Tunisia in December 2010 and rapidly spread all over the Middle East. To date, three governments have fallen—Tunisia Egypt and Libya—Syria has collapsed in blood bath, and the demand for honest, decent rulers and democracy has shaken regimes throughout the region.

To help us understand these extraordinary and unprecedented developments, we are fortunate this evening to hear from James Gelvin, professor of Middle Eastern history at UCLA, and a specialist in the social and cultural history of the modern Middle East). His latest book, The Arab Uprisings: What Everyone Needs to Know (2012), is published by Oxford University Press this year.

Professor Gelvin graduated from Columbia University and received his Ph.D. from Harvard. Before joining the faculty at UCLA, he taught at MIT, Boston College, and Harvard. Previously, he was a fellow at the Woodrow Wilson International Center for Scholar, and has taught as a visiting professor at the American University in Beirut.

As dramatic and world shattering as they have been, the events in the Middle East have not drawn him away from examining the historical roots of modern conflict. He is currently co-editing a forthcoming book called Global Islam in the Age of Steam and Print, 1850-1930, and has recently published articles on modernity and tradition in Damascus, and the roots of political Islam.

In his talk at the Athenaeum Professor Gelvin will discuss the current situation in the Middle East.